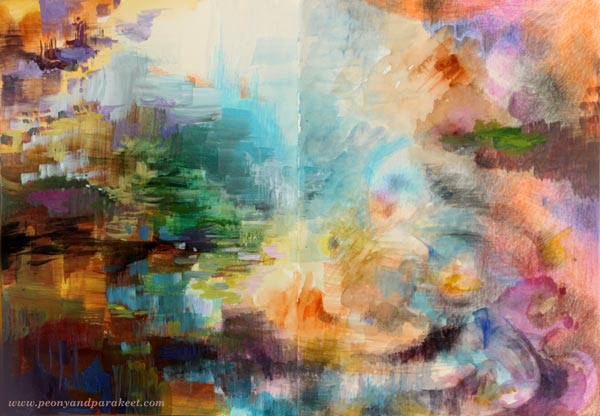 This is my latest art journal spread called "Explorer's Fountain". Before showing how I made it, I want to ask you the question that I have been pondering.
When Is the Beginning of a New Phase?
All artists have phases. But how to know when a new one begins? Is creating a continuum or are there certain points when you make the change? Or at least began to change?
I posted this image to Peony and Parakeet's Facebook page with the text below, and I want to share this here too:
As children, we know what we love. I wanted to be an artist and a teacher. I wanted to write and publish books. I wanted to live with pets. When we grow up, there seem to be more possibilities, and still, they feel less. It's not much to be a manager when you have dreamed to be an artist. This is how I have felt personally and this is why I think we should do what we have always loved. Because it feels more fulfilling than anything else.
Just recently, art has begun to feel more fulfilling and exciting than ever before. I feel I have new skills, even if I can't fully point out what they are. I feel I have new thoughts but when I try to grab them, they seem to disappear. My mind is filled with new kind of artistic focus, and still, it's like it has always been there, now I am just more connected to it. This makes me think that I am experiencing some kind of artistic change, moving from one phase to another.
The changing process is like a rain that starts with small drops. You can then decide whether you go back inside or get out and see what happens!
Learning from Practicing
Teaching classes have been small drops to me. As an art teacher, I see all kind of styles and seek solutions to many kinds of creative problems. I am often so excited about my students and their creations that my own art feels like a secondary thing. But while I have helped people to bring out the best of their skills and get more clarity for their creative direction, it has been a school for me too. It's like I have got a gift from my students, being able to build my own focus in a new way. So while you have practiced, I have practiced too!
What's Your Ambition in Art?
I have never understood the controversy between commercial approach and artistic freedom. I think we should search for the best audience to our art and find ourselves through the process. I know most of the people disagree with this. I do understand that many great art pieces wouldn't have been born with this mindset. But my own ambition of being an artist doesn't mean creating world-class art and being the greatest of all. I think art as a service instead of end result only. I want to understand how people experience art and develop ways to make creating as fulfilling as possible. – What's your ambition in art?
Triptych Approach – Create with Me!
Instead of focusing on single artworks, I look for creative concepts and processes. Just recently I got an idea of a triptych. The piece would be created with three different mediums, each taking one-third of the final piece. But this triptych would have soft edges so that it would look like a one piece despite the three distinct elements. Create this triptych with me and while creating, ponder about your artistic direction!
1) Start with Colored Pencils
Color freely with colored pencils so that you fill approximately one-third of the page.
Add few small separate colored areas too.
Using Old Pencils
I use Prismacolor and Garan d'Ache Luminance pencils "officially". For example, all the images of the e-book Coloring Freely have been colored with them. But when I am making a quick spread like this one, I often grab some odd short pencils and use them instead of the fancier ones.
2) Continue with Watercolors
Change to watercolors and paint the second third of the spread.
Try to make the transition from colored to painted areas as soft as possible.
In the end, paint an area that is separate from the main area.
3) Fill the Rest with Acrylic Paints
Paint most of the remaining blank area with acrylic paint.
Add a small painted area on the right where you have colored with pencils. Acrylic paints can be used easily over colored pencils. Don't cover too much, let every medium show!
4) Finishing
Go through the whole page and fine-tune the spread with colored pencils and acrylic paints.
Add little details and nuances, don't repaint the whole page.
Here's is my finished spread again.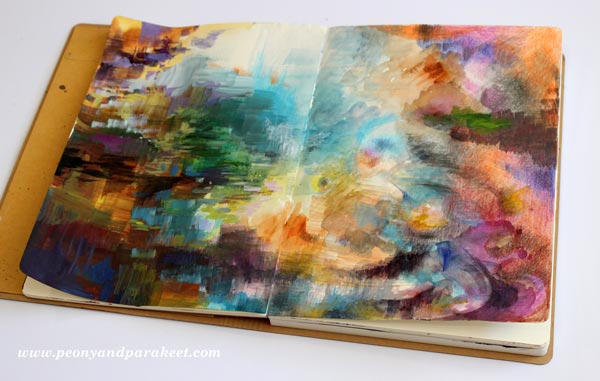 5) Use Leftover Paint
If you still have some leftover paint on a palette, grab a new page and create a quick abstract!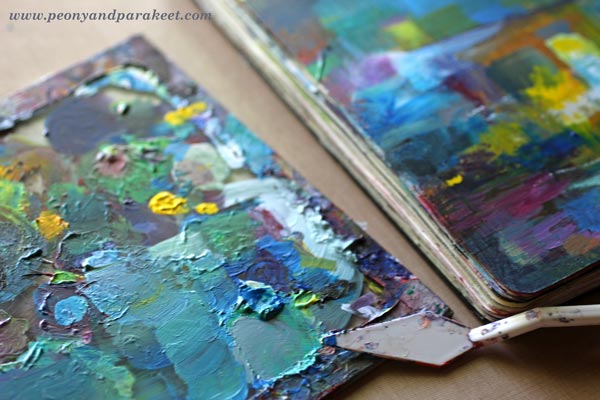 Here's mine, called "House with a View".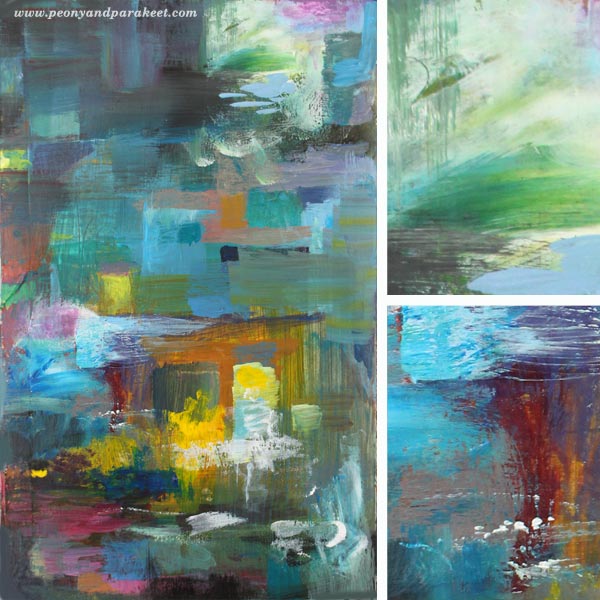 Analysing Artistic Direction
When thinking about artistic direction, it's natural to analyze what's good at the end result – what do you want to take from that to move forward. But it's as important to think about the creative process and analyze that what felt good there.
After analyzing both ways, I think that my direction is this. I have always loved art history. I want it to show in my art but in a fresh way. I want to build bridges between old art created hundreds of years ago and today's contemporary art. My latest art class Imagine Monthly already does a lot of that. But I also want to grow as an artist so that my personal expression grows stronger and so that I can reach more like-minded people with both my art and my classes.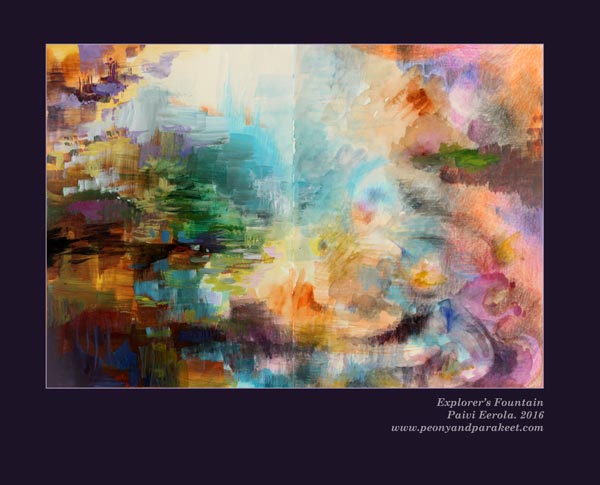 Challenge yourself to find your artistic direction
Sign up for Imagine Monthly Fall 2016!