This week, we look for what's natural and lively in a bit different way than usual. I share three tips for bringing more life into your art.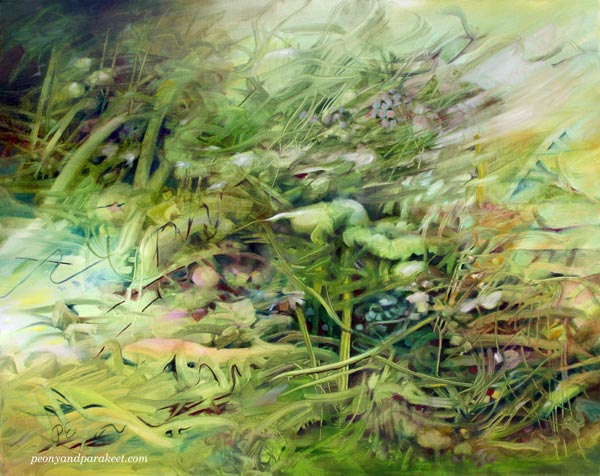 I just finished this green painting. It's called "Muuttumaton" in Finnish, but this time, the translation "Unchanging" fits it better because the English word has a more active tone.
This painting was in progress in the video that I shared a couple of weeks ago.
Here's the video again so that you can see me working with this in practice and compare the middle and the end!
So, that was the video, but in this post, I want to give you ideas on how you could bring more life into art.
These ideas are not technical because I think that my classes are better for learning the techniques, but more about changing the way you get inspired and observe what first appears on paper or canvas.
Tip #1 – Let Weeds be Weeds
In my painting, the main character and the focal point is a blooming weed. It appeared on the canvas right away and reminded me of Fernando Pessoa's poem that talks about a crop bending with the wind and then straightening once the wind stops. This kind of natural resilience that weeds also have is inspiring. In art, we usually make weeds look more like a flower. But could we loosen up and bring more life by letting the weeds be weeds?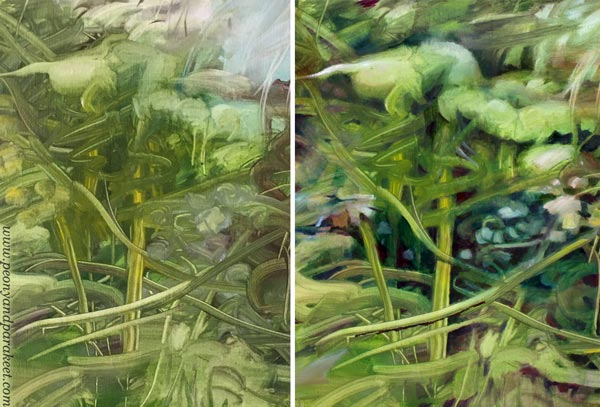 So, I just made the big plant look a bit more defined and let it be the star of the show.
Tip #2 – Try to Ignore Color
Even if I took pictures of the painting in our garden, I have been more inspired by the untamed side of nature lately.
With my beagle Stella, I have been exploring banks and woods that look ugly but are full of layers. For Stella, layers of smells, and for me, layers of shapes and textures. I have tried not to seek the most beautiful spring flower, but develop my eye to notice other than colorful things.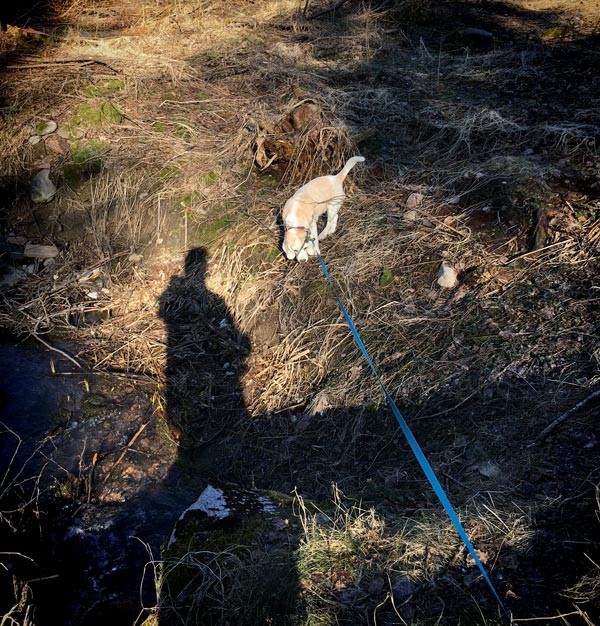 What looks ugly first can be beautifully free.
Subtle changes in color can make the painting look more lively than if you throw in a bunch of strong colors.
Tip #3 – Embrace Destruction
When bringing life into art, it's not that we have to start with life. We can look at broken and deserted things like fallen or chopped branches. They can then have another life in our art. Imagine branches falling further down and breaking the cover between the outer and inner world. What kind of life could you give them there?
Admire how the grass grows, but also, how it withers!
When we create, we can start with destruction and then use colors to make all the ugliness bloom. This way, we build a bridge between the garden and the wilderness – between the traditional beauty and nature's aesthetics.
I don't use references for my half-abstract paintings like this one. But I believe that things that we see and appreciate find their way to our art in one way or another.
So when you want to bring life to your art,
look for life as it is in the wilderness, not only as it is in your garden.
When looking at this painting, I want to be like that weed, stand tall where I happened to fall. I want to believe there's something unchanging in this ever-changing life that keeps us creating. I hope we can be Pessoa's crop that straightens right away when it gets the chance!