This week, I talk about the hidden potential behind artworks and how we can reveal that by not only building but also breaking.
Modern Maximalist
I have just designed a collection of surface patterns called Modern Maximalist. It's drawn digitally in Adobe Illustrator and more modern than my work usually is. However, I love modern, especially the 1960s and 1970s styles. I was born at the end of the 1960s, live in a house built in the same era, and my love for retro has been too hidden in my art. But still, I didn't want to design the collection based only on the images of others, but to build a bridge from my art to design. So, most of the motifs were based on this watercolor painting that I made a couple of weeks ago!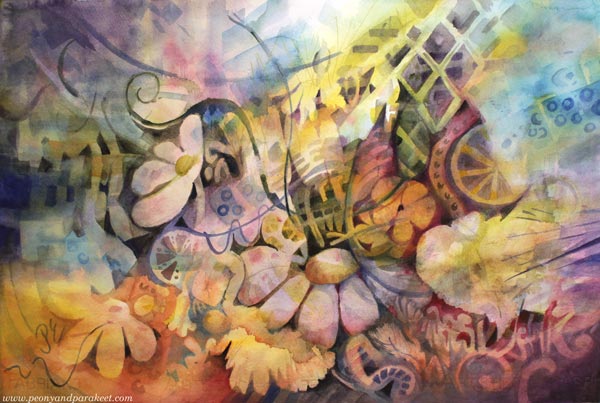 More Artistic Potential by Building and Breaking
Often when we create art, we build. We communicate the big picture and compose bits and pieces so that they work together. We get happy accidents (and sometimes some not-so-happy ones) and aim to make an image where the overall atmosphere takes over the details.
But to reveal more, we also need to break. Then the romantic flower that was painted to represent a dreamer, becomes a more stylish and symbolic figure.
Yellow flowers and all the yellow washes can be more geometric when they are away from the big picture.
The juicyness of the fruits and other decorative details can be reorganized.
Picking Ideas from Other Images
We can also add more fuel, and break and pick from other images. This design called "List Maxima" uses motifs from the painting, but also the idea of a list that came from playing with the name of the collection, and fashion pictures that showed puffy and full dresses of the maximalist style.
By breaking and picking, we also develop our ability to curate – to see which inspiration suits what we have already done. It's an essential part of a style-development and and growing artistic vision.
I saw a pleated skirt on Prince Charles's wife Camilla Parker-Bowles, not a maximalist style at all, but wonderfully modern so I broke and picked the image and got creative from that.
Artists often say to me: "I need to focus!" But by focusing on narrowing, we non-creatively force ourselves to do one thing. By breaking and picking, we can curate all kinds of inspiration and be creative so that it grows our artistic vision.
Revealing the Artistic Potential
No matter where you are in your artistic journey, your art benefits from the idea of building and breaking. Build to go deeper into the experience and break to reveal more ideas and potential! In practice, building often means painting, and breaking is often connected to drawing – even if, of course, you can use any techniques that suit you.
What was first a watercolor painting, could now be a quilt!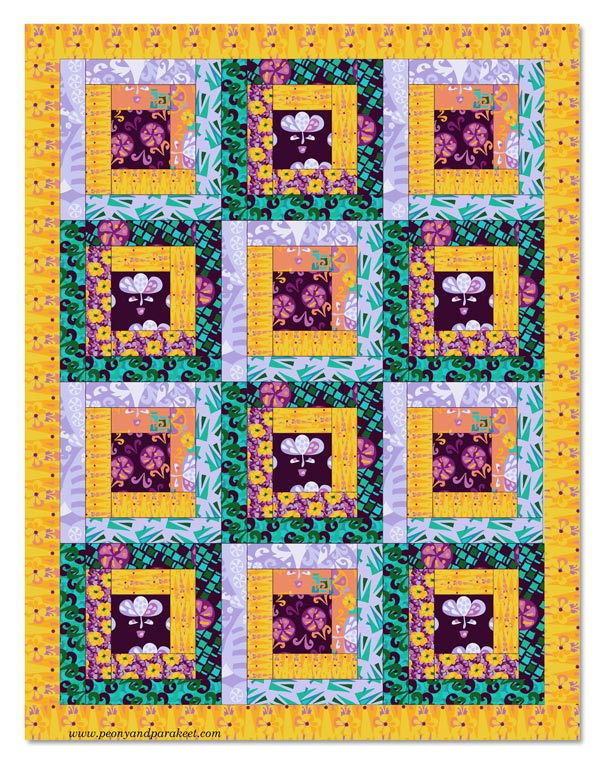 Building and breaking can alternate endlessly when we combine new ideas and results with old ones.
Here I am breaking and picking to create something new into my art journal.
Here's what I built by cutting and glueing new prints and old hand-decorated papers.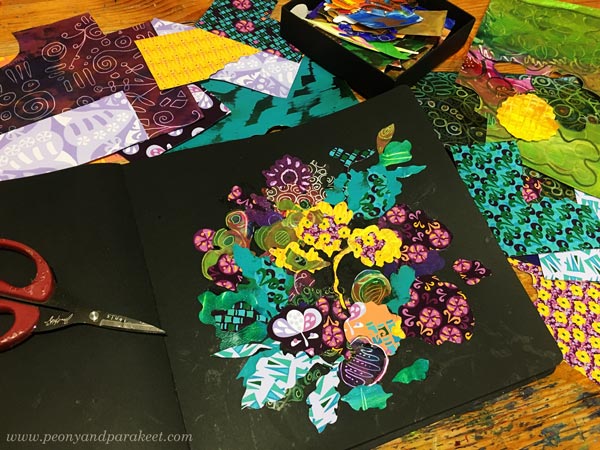 And I couldn't resist checking if this could work as a repeat too!
I hope you found this post about building and breaking inspiring!


Need help for finding your artistic potential and building artistic vision? Sign up for my coaching program called Artistic Vision!