After stretching my limits at the last blog post, I felt the need to go back to basics. I picked my Moleskine Watercolor Notebook and made three spreads by just answering the question: what does continually inspire me?
The short answer is: I am constantly inspired by the history of decorative art. I believe that it's important to respond to the question on a general level like this. If you only list specific artworks and other artists, there may be less room for personal interpretation. If you define yourself too tightly through others, you can find it hard to figure out what to create next and how to find your personal style.
My Art Journaling Inspiration Sources
I am constantly inspired by embroidered fabrics and wool rugs from the first half of the 20th century.

I am constantly inspired by art glass, fabric prints, and the way these characteristics are seen in today's street fashion, especially Japanese street fashion.

I am constantly inspired by Russian decorative plates, European Art Nouveau and the way they combine drama with natural colors and shapes.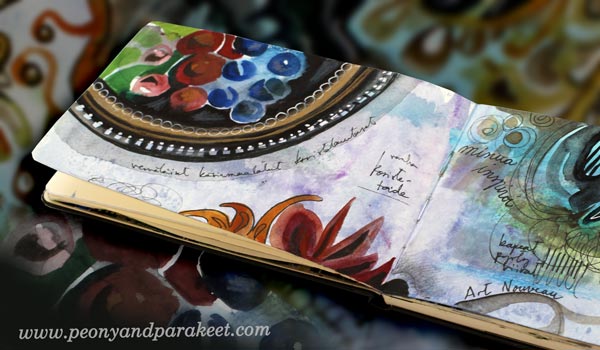 Even if I don't have the ability to paint decorative plates or the looks to wear Japanese street fashion, I can use them as a constant source of inspiration. I can let them show in art journals and other artworks, often in a way that is less literal but still obvious for myself.
The history of decorative art fills my mind with values that I can resonate with. They are understanding nuances, focusing on details, telling stories that last time, uplifting people with beauty and spirituality and integrating production with technology. It may not be the whole big picture of the subject, but it is how I look at it. That in turn, inspires me to create art, to blog and to deliver new techniques and workshops.
Let art journaling make you happy – fill your pages with subjects that truly inspire you!
Monthly art journaling inspiration: Sign up for Imagine Monthly!