For many years, I have been dreaming about constantly making quilts. I have even recorded that into my art journal. Even if I have quilted almost all my life, especially in the recent years, I have had difficulties to arrange time for it. It has always seemed to require so big block of time that I am able to arrange that only few times in a year.
I am especially fond of modern quilting. One of my favorite quilting blogs is Crazy Mom Quilts by Amanda Jean Nyberg. She is especially focused on quilting from fabric scraps. I also love her book Sunday Morning Quilts. There are so many days that I have browsed the book, admired my fabric stash and felt sorry for myself not to have enough time for the actual making.
I don't like showing unfinished projects, but as a proof, here's one of the many patchwork projects which has been untouched for months. And, my dream is to make more of these quilted boxes for the fabrics (the pattern is from the book Sunday Morning Quilts)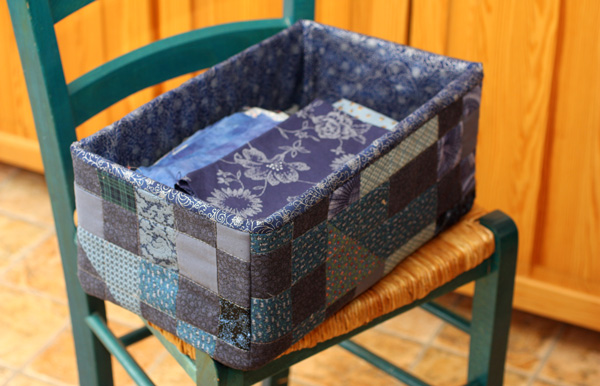 The problem: How to create more often?
I have asked so many times:
– How to quilt more often?
and answered to myself:
– Arrange more time.
– Buy more fabrics, books, classes or subscribe to a magazine.
– Follow more blogs, have a Pinterest board for inspirational quilts.
– Organize your scraps first.
– Take more/less time for planning … etc.
None of that worked. But now have found the solution! I have developed a method derived from digital scrapbooking, another hobby of mine.
A Case Study: Scrapbooking as a regular practice
I had a similar kind of problem with digital scrapbooking, just not so bad. I wanted to do more of that but often realized that I had not done anything for a long time. Last October I decided to start scrapbooking one page a week with Project Life style: insert photos to a grid and make it simple. I only included one photo of each day or two, so it was not a big task to fill the page during the week. I decided that one page per week would be my minimum dosage. If I wanted to do more digital scrapbooking and be more creative, I could create more pages if I had any energy left.
What happened? I have not only created those weekly pages but 12 other layouts as well. That's 33 pages total in 3 months which much more than my usual pace! Surprised by the result, I began to think about the magic behind that. And – could it be use for quilting as well?
Here's is what I discovered.
1) Lack of time is not an issue, moving from one task to another is.
It did not require much time to take a sewing machine and start sewing. The reason I needed bigger and bigger time blocks to begin, was because I was thinking about too big tasks that seemed overwhelming. In other words, I required too much of myself. After working late in the evening, I should have started sewing a big quilt in a snap! The more I thought about starting, the less time I had to actually to do that and the less inspiring it sounded. When moving from one very different task, like writing, to another, like quilting, is not easy for the brain.
2) Lack of energy is not an issue, if the task is small and interesting enough.
It's amazing how tired we can feel ourselves, but still spend time browsing computer or watching tv instead of going to sleep! There must be some energy left in us! I got that energy in use by telling myself that I was allowed to make only one little task. That way I did not imagine doing a lot and feeling a lack of energy for that. It also helped if I had some freedom to perform it. Then it sounded not only manageable but also interesting.
3) When the task is done, move to working with bigger projects.
The biggest thing that I learned is that I should always keep the promises for myself. If I presented a little task to get myself going, I should never ever make the task considerably bigger. Why? Because the next day I remember that one small task is actually a huge one and I don't want to start it anymore. After I have made the small task and if I feel like doing some more, I can move to the bigger projects – to those unfinished ones that I actually want to finish!
Here's how I adapted all that for quilting:
Sew One Block per Day
I decided to start a new quilt. But instead of planning and measuring, I just set few simple rules for each block. If I feel exhausted I can only pick one fabric, cut one 4-inch square and call it the block of the day. At the most I can make one 12 " square with as much piecing as I feel like. But that's it – no other blocks are allowed on the same day.
I started the quilt on the 1st January and here's what I have made so far. This won't most probably be my greatest quilt but more importantly, I have started to make a quilted box, a red one for the red fabrics. And – it is so much fun to sew it!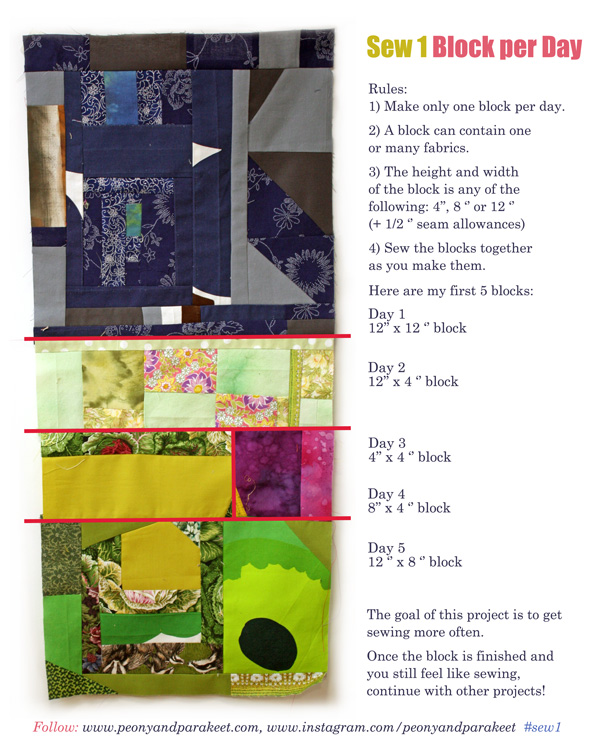 As the result of the new project, my studio has turned into the sewing room!
The little project bags are also handsewn (two of them are made just recently!). The old cardboard box is for buttons and been inherited from my husband's grandmother.
Now you might ask:
How to apply this to art journaling?
Why not make a page in phases from element after another! Here's what I have made in two days: two little ornaments. I continue adding one doodled element or text each day. When the page is full, I will start coloring the elements, each at the time.
Preorder my class: Artistic Embroidery with Pens and Paper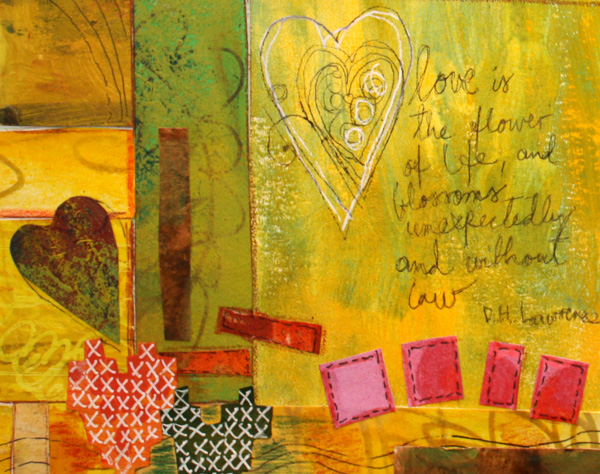 D.H Lawrence has said: "Love is the flower of life, and blossoms unexpectedly and without law." You can replace the word "love" with the word "creativity"! But whether love or creativity, I believe that we need to do a little push to make the blossoming really happen. Like one doodle per day!
If you love crafting, quilting and needlework and want to show it in your art journal too, preorder my class from 21 Secrets Spring 2015 art journaling workshop! Let's add little treasures to our pages! (Here's also a recent blog post about the class).