This week, I talk about the colorful bridge that art can build between real and unreal.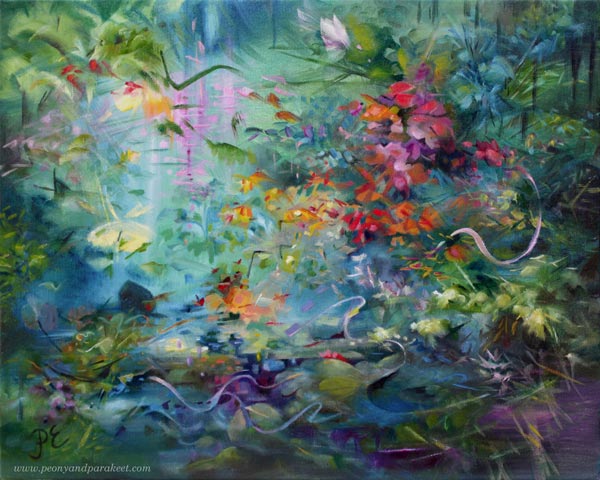 This is my latest oil painting called Forest of Wishes. My fall is filled with those – wishes! Wishes that can't be fulfilled.
I wish winter would only last a day or so. I wish there would be regular life for regular people – not war, not suffering, not lack of anything. And while I am thinking about these melancholic thoughts, it feels like my creativity ignores them and lives in a fairytale. I want to draw you in this fairytale too. I hope these pictures inspire you to create and make life more magical!
Hello Fall – Hello Colors!
In art, colors can make a fairytale. My oil painting brought this older watercolor piece to mind. Like "Forest of Wishes," this one uses blue in a similar way: to create a connection with the viewer. It's a reminder that blue can be strong and soulful and approach the viewer, not just stay still in the background.
There's also a video of painting this!
This painting started with the reference photo, but once the painting process got further, the expression replaced it. And splattering with a brush is a lot of fun!
The Magic of Growth
When I look at our garden, the wonders of summer become visible when trees prepare for fall. They have grown a lot, for example, this monkaburi – a pine tree that we planted a few years ago. Back then, it felt like it would take forever for it to form a gate over our heads, but now it already has a branch that grows over the path.
The magic of growth also happens when filling a blank paper or a canvas. First, there's very little life, but by adding more colors, shapes, and layers, we can grow a forest.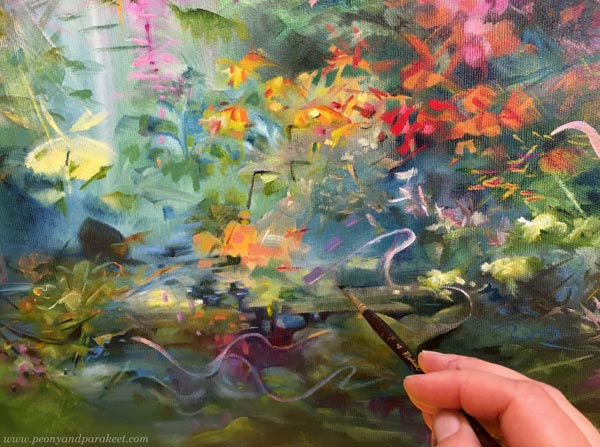 Sometimes the forest comes in one piece, and other times in many little pieces.
The same applies to artistic growth: sometimes it happens quickly, other times more gradually. I like to break the rules of being a serious artist only and allow play to show me the magic.
I want to learn from Saima, our youngest beagle. She is obsessed with the ball, but when we mention that to her, she seems to laugh: "It's only a hobby!" At the same time, fetching the ball seems to be both her passionate work, but also a tool for imagining and playing.
Fall Fairytale
In the forest of wishes, we want to use a different mirror for ourselves – not to see the limitations but imagine the potential. It's an exciting place that has many dangers as well.
Going deep can take us deep down, but when combined with play, the humor steps in. Here's my wish for a winter that would only last one day!
Ask: "Is it the fall or is it a fairytale – real or unreal?" And then answer: "Today it's a fairytale, a colorful escape!"
Art can truly add magic to our lives. I feel that life isn't real without the unreal.
What do you think?