This week, we get inspiration from roses – their spirit, resilience, and decorative beauty.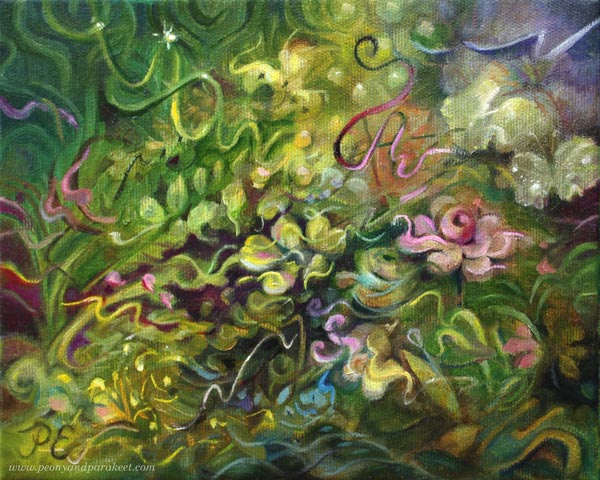 With this post, I want to encourage you to expand the use of decorative art. You can add decorative elements to any art style! See another example in the older blog post: From Decorative to Expressive Art
The Spirit of the Rose Stays Alive in The Fall
Roses surprise me every fall. When other flowers have given up weeks ago, roses still make buds and continue to bloom. Not as galore as in summer, but they try their best on cold nights and cloudy days. The spirit of the rose is born from warmth and light, but once it's up, it doesn't quench easily.
In our garden, roses are more my husband's thing – I collect peonies! But in the fall, I have to admit how superior roses are, queens of the garden, one could say. When the colorful leaves take over the scenery, even the most modest rose flowers stand out simply because they are different in colors and shapes.
It reminds me of how resilience and beauty are connected. So mere persistence in creating makes your art beautiful.
Expressing with Small and Decorative
This painting is a small one, only 20 x 25 cm (approximately 8 x 10 inches). When I was a beginner in painting, the small size felt easier. But nowadays, I prefer big canvases, and if I want to create something small, I usually grab my colored pencils, not brushes. But on the other hand, I like the challenge that the small size gives.
When painting roses in a small size, I need to have an extra focus on the quality of brushwork. Even the tiniest strokes should be elegant, especially if the painting is called "The Spirit of the Rose."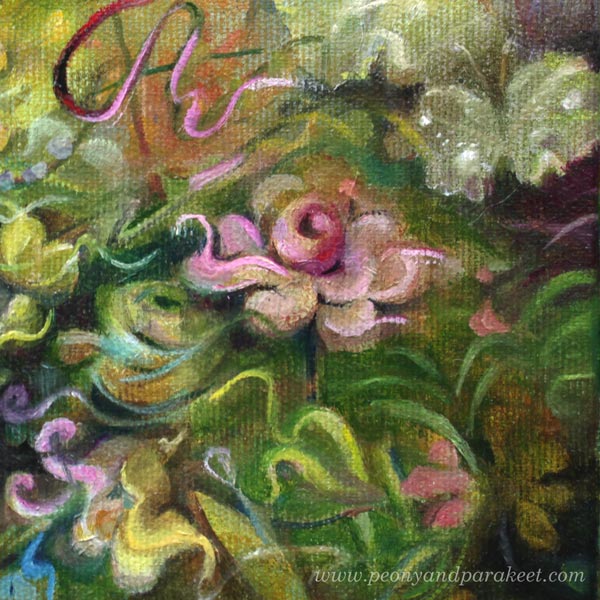 Decorative paintings often look very static, but I like to add movement with lines. At best, my small paintings are like short classical musical pieces with a clear melody, lots of short violin strokes, and clever piano tunes in major. It often helps me if I define the desired outcome by other art forms like music or movies.
But decorative art has its limitations. The spirit of a rose is not visible if you only paint one kind of rose and if all that you paint is roses. Add flower variations, how the flowers affect their surroundings, and how the surroundings gather around the flowers. Add elements that resemble the living spirit, and let colors interact too so that the roses are not separate but part of the living scenery. So, painting roses is never just about roses, it also expresses how you see the world.
Painting Roses – Decorative Flowers of Decodashery
Even if single floral motifs are often not so expressive, I am fascinated by the techniques of decorative art, especially folk art. A couple of years ago, I noticed that I need practice with the brushstrokes. I wanted to learn to paint in a decorative style and then combine that with a looser and more abstract approach that I already had in my style toolbox. I think that style should not be a matter of narrowing down but expanding, and I felt that more experience in decorative painting was something that I could benefit from. So I made a course called Decodashery and painted flowers after flowers to improve my strokes.
You see, preparing for the course requires deep understanding. A teacher isn't only someone who masters the technique but one who can also break it into pieces and explain it. And by doing that, the skill becomes more stable and versatile. So, you can create quicker when knowing how things are constructed, and it's easier to adapt the technique to your own liking. In the classes, whether you are a student or a teacher, the resilience grows, and the spirit of the rose becomes stronger: "There's still time to bloom, and I will do it!"
Drawing Roses and Flower Girls – New Course Is in the Making
This fall, I have not only been painting a new series but also developing a new course.
Its working title is "Doll World," and it's about drawing human figures. I think it's a skill that enables us to do illustrations that captivate the viewer and something that we all would like to do for fun too. We will draw flowers as warmups and decorate the dresses with colored pencils. I plan to run the class next year and open the registration next month. So stay tuned!