I just finished this fantasy forest! The painting is called "Once Upon A Time." I think this will begin a series of fantasy watercolor landscapes. Recently, I have got lots of inspiration from daily walks.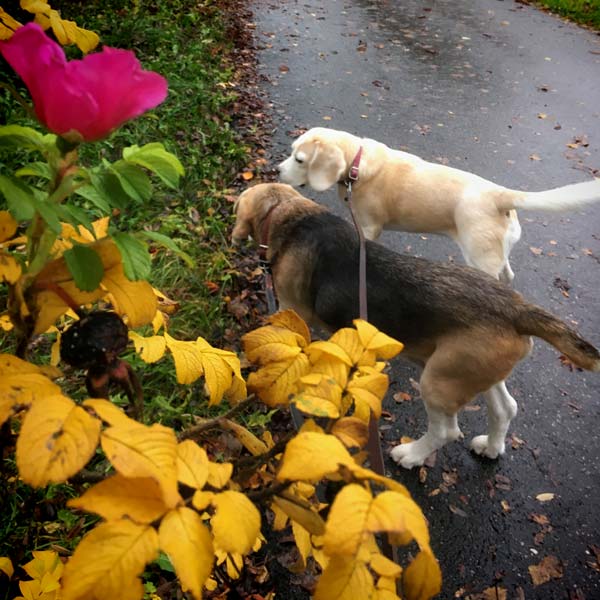 First Idea: Forest Is Like a Golden Palace
This fall has been beautiful, and I have especially enjoyed yellows and oranges. It looks like the trees are decorated with gold, and even the most modest specimens look noble and precious when the sun highlights their leaves.
The fall sceneries took me back to childhood when I used to wander in the surroundings. Often it was an escape from boredom, sometimes from unpleasant feelings. I didn't admire nature like adults do. I saw myself as the queen of England (because I didn't know anything more exotic and powerful!), pacing around her palace. Trees were pillars of the luxurious hall, and the mosses were sumptuous carpets. In my eyes, every living plant became a grand artifact, contributing to my perception of ultimate beauty.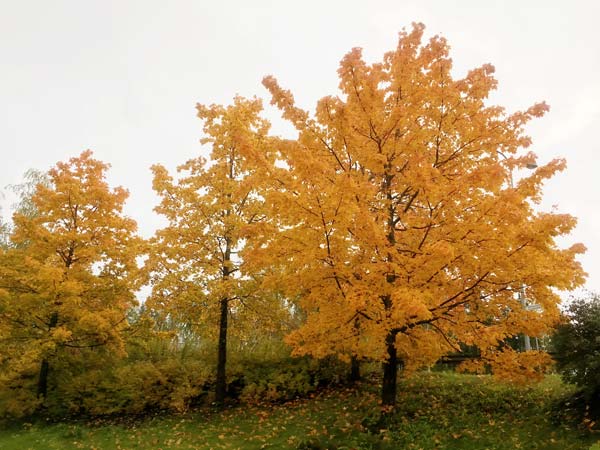 Earlier this fall, I painted this watercolor scenery that perhaps has some remains of those childhood memories.
>> Watch the video of making this watercolor painting!
Two Watercolor Painting Stations
When painting with watercolor, it's important to be patient and let the paint dry properly before adding more details on the top. I have learned that just staring at the painting and waiting for the layer to dry is not a working solution to me. I try to figure out something else to do too. This time I had two painting stations and another painting also got some layers even if I didn't get to finish it.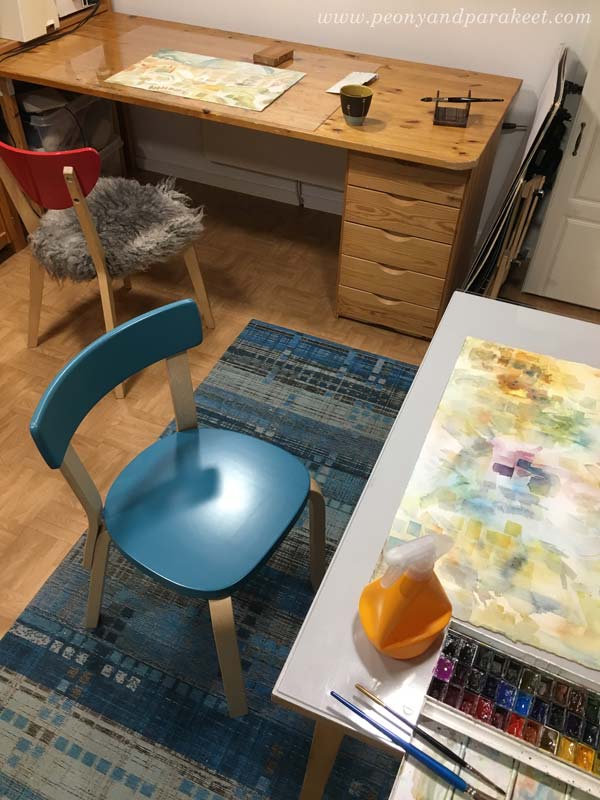 I have big plastic plates covering the top of the tables so that I can splash water quite freely.
From a Building to a Fantasy Forest
I started the paintings with simple geometric shapes and used photos of interiors as inspiration. The staircase of Palais Garnier inspired the painting of this blog post.
Here you see some details of the painting in an early stage. The elements are more architectural-looking than organic. Maybe because of my childhood experiences, I find it easy to see the connection between interiors and outdoor scenes. If I look at the photo like the one below, it's more difficult for me to pick the shapes that define the 3-dimensional space.
When I continue the painting, I change most of the shapes so that they are more organic.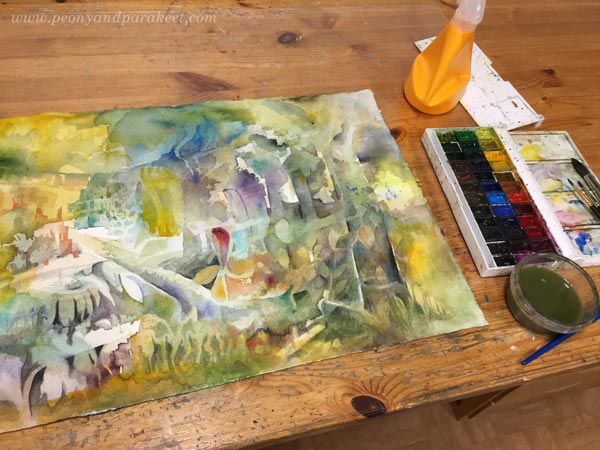 At this point, I was working from my imagination only. I find it most freeing when I don't have to keep any photos visible. I had quite a flow here, listening to old cembalo music and painting!
I like those leaves in the bottom corner. It's always a bit pity when something pretty appears near the edges. I had to tone them down a bit so that they don't steal all the attention.
Second Idea: Orchids
Orchids have never been my thing until I received my first one from Patricia, one of my students, as a birthday present. I was so impressed by getting the orchid that I learned to take care of it. When I changed the pot, I was fascinated by its roots. The months went by, and I became more and more interested in all kinds of orchids. A few weeks ago, I went to see a show organized by The Finnish Orchid Society.
So no wonder that my second idea was to add orchids to the fantasy forest!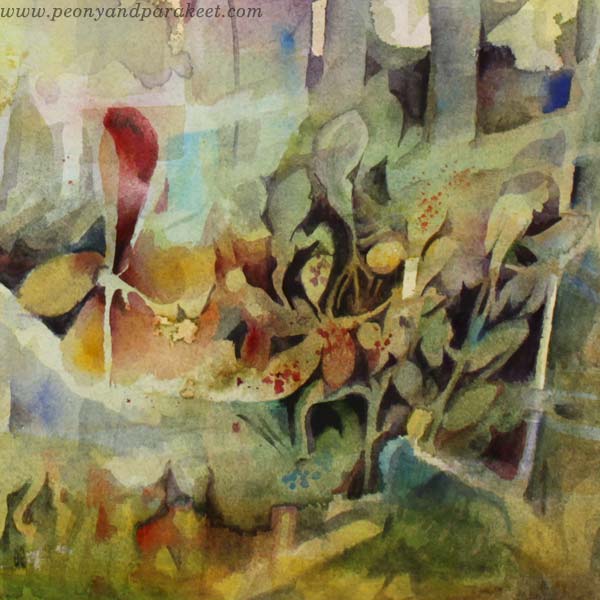 I have quite a few orchids to take care of nowadays. All of them don't show in the picture below … These plants are as inspiring to me as the golden forests!
Fantasy Forest
Here's the finished piece again, combining the ideas of seeing a forest as a luxurious place and expressing the love for orchids.
I hope this inspires you to paint a fantasy forest!