For this painting, I learned how to imitate glass. It is called "We Will Protect You," and it's about parents trying to protect their children. The parents have good intentions, and they do their best, but in the end, they have to let the child step into the world. I have painted two glass vases to represent the parents. The child sees the world through the parents, and even if they want to protect the child, they are fragile too.
Artistic Inspiration from Glassware
The idea for the painting began last Saturday when I went to the local library to get some ideas for the future blog posts. I saw the book called The Art of Glass. It was about Kaj Franck, a Finnish designer who was extremely skillful in designing glassware.
Most Finns have Kaj Franck's glassware. He didn't design unique pieces only, but everyday glass as well. My most precious glass item from him is this red "Goblet" which was originally owned by my aunt. She passed away ten years ago, and the color of this Goblet reminds me of her vivid character.
After browsing few pages of the book, I knew I had to make something glass-related. It's not the first time the glass has inspired me: see the collage inspired by Nanny Still, and I have also knitted a folk bag inspired by Oiva Toikka. Both Nanny Still and Oiva Toikka are Finnish glass designers as well.
This time, I wanted not only to find out how to imitate glass but to explain it to you too. Before beginning the bigger painting, I painted few circles on a small paper and tried to make them look like glass.
I used acrylic paints to paint the circles and then watercolors to add more circles around the previous ones. The shapes were softened with colored pencils. Then I added white with acrylic paint and a gel pen, and black with a PITT Artist Pen.
I made each circle a bit different. I was not fully satisfied with them, though. The center circles were too solid in color. I decided to start the bigger painting with watercolors as they are easier for making transparent layers.
8 Tips on How to Imitate Glass
1) Paint several transparent layers which intersect each other. Use a lot of water to create thin layers.
2) Use a lot of hues and shades of the same color. Mix colors to get new tones which have slight differences from each other. Use small spots of other colors too as glass reflects its surroundings.
3) Paint geometric shapes like circles, squares, half-circles, and triangles.
4) Add white with acrylic paint. When painting the white shapes, soften one side of them by adding water.
5) Use a black colored pencil to add dark near the sharp edges of white areas. Make the dark areas soft too.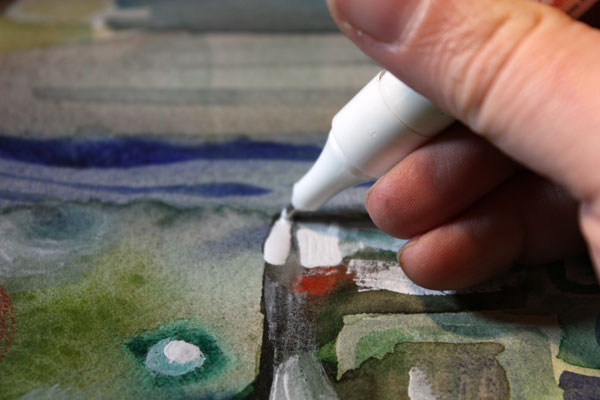 6) With correction pen, add brilliant white to highlight parts of the white areas.
7) Add jet black with a black marker (I used a brush tip PITT Artist Pen) to make dark areas pop as well.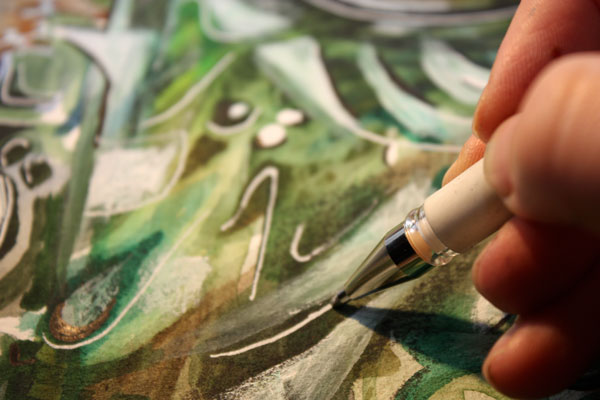 8) Finish with thin lines using a gel pen and a black marker. It will make your glass look a bit thinner and more elegant.
What kind of glass do you like the most? Does mimicking materials interest you too?
Let me be your mentor in art: Subscribe to my weekly emails!