At first, I should probably give you a warning: I am in the middle of the chaos, this not so organized as my posts usually are! With this post, I invite you to the process of writing a craft pattern. I have had this idea for 6 years and it has become hugely important to me.
I designed a drawstring pouch which combines yarn and fabric in 2008. I have made tens of those bags, which I call folk bags, during the years and dreamed about writing instructions of how to create them. Within years I have learned a lot of making these bags. What first started a simple idea and simple sketch of a pattern, has become much more. It became clear when I began working with the pattern that I won't be writing a regular craft pattern. I am writing instructions and formulas about how to design and customize folk bags so that you can make your own unique bags.
Writing a pattern is not just writing. I have to test each sentence for many times. So I need to actually make more bags while I am writing.  Going to the fabric stash in the morning feels as inspiring as grabbing the pens and paints. What I find challenging is to go back and forth from knitting and sewing to writing. I do not know if it was a good idea to make the pattern both in English and in Finnish – and write the both language versions at the same time! Sometimes I get so mxed up that I have to translate the most simple words from English to my mother tongue Finnish! The good thing with working with two languages at the same time is that the instructions get checked much more carefully.
I knew I had taken a lot of photos of my bags during the years. It seemed to be a good thing. All the ideas that I have had and that had been implemented are recorded. Furthermore, I have a special folder in the photo organizing software where they all are. And yes, that's great. But there are over 500 photos plus the new ones I have took during the writing. I need to pick the best images for each chapter and then process them. There's still 250 photos to go through and few more to shoot.
After all this, I still have to confess that my heart sings when I am writing the pattern. I hope that with this work I am able to spread more joy than if only I made the bags. I wish that there will be more people experience the joy of both making the bags and receiving them.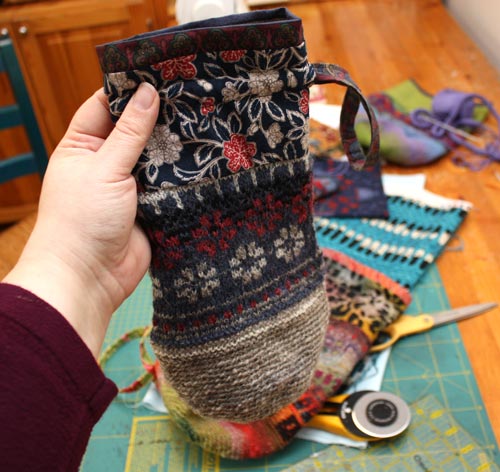 I hope to get the pattern published in this month. I already have finished many chapters and soon I will begin to insert the texts and images to the desktop publishing program. The working title of the pattern is Folk Bag Workbook. It will be available for purchase in my web site and at Ravelry.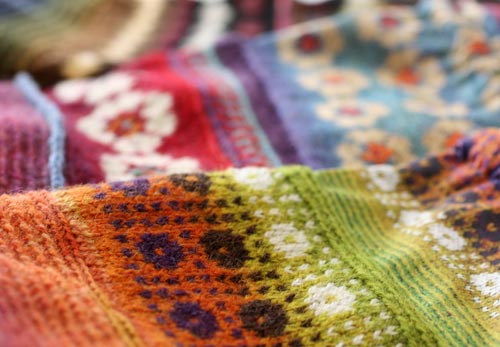 Next week I have more news, also textile related in a way!