People often say to me that they have very little creativity. They describe how difficult it is for them to let go when crafting or making art. I assume that everybody have blocks in their creativity. I struggle with them too. But here's how I managed to get rid of many obstacles and enjoy creating.
First, speed up! Create faster. You will get into uncomfortable, unbalanced state where the voices in your head say: "Slow down! You need to think first! Don't do that! NO!" And then it's easy, you just do the exact opposite: increase your speed, stop thinking what color you choose, implement all the wildest ideas (like mess up the areas which begin to look ok). Replace your NO with YES! You can do anything!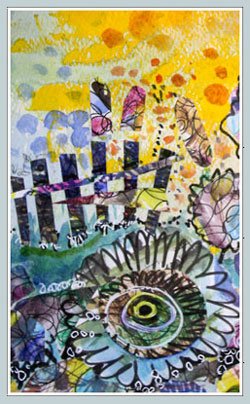 Stop drawing lines that do not intersect! Put the elements on the top of each other. Get rid of the clear shapes. If you work fast enough you will stop comparing your work with others. You will have your unique thing going on. The truth is that somewhere under the surface is your own style, your own creativity, your own spirit.
Just a while ago I read an article about visual culture now and after 25 years. An expert was interviewed. He said that it will be proven that all the images are equal. It hit me: even if there are great masters in art, great talents, in the end all the images are equal in the general perspective. And even more important: in the personal perspective the most important images are created by ourselves. Only our creative mind can reveal all the wonderful things that are hidden behind the no's and dont's.
Let me be your art teacher: Subscribe to my weekly emails!