This blog post is dedicated to my skillful husband. He has always supported me as an artist. The support he has given to me hasn't only been mental but practical as well. He has made countless of wooden items that I have needed for my art, using hand tools mostly. These projects often begin so that I carelessly draw something on paper and ask him to follow the drawing. My sketches inspire him to ask more questions, create prototypes, and when I see the final piece, it's much more detailed and beautiful than I ever could imagine.
Paint Brush Holders
One of my favorite wooden treasures is the paint brush holder that can hold most of my brushes. It is designed so that I can put it on the shelf and then take it out when needed. I love seeing the brushes in one glance and storing them so that the bristles won't pend. My original idea was just a simple wooden block with holes but my husband designed and finished the holder so that it's like a valuable antique piece!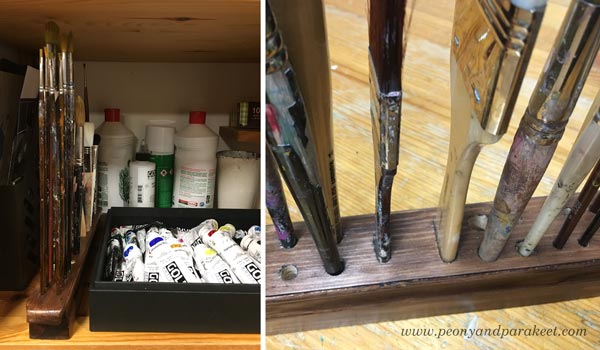 Because the vertical position ruins wet brushes, I always dry the brushes first. That gave me the idea of having a separate holder for wet brushes. "Something simple," I said again. But my husband came with a better version. This beautiful paint brush holder can hold a lot of brushes in different sizes, and I love how practical the decorative holes are as well. The other side of the holder is slightly taller so that the brushes point downwards. It makes sure that the water won't travel to the handle.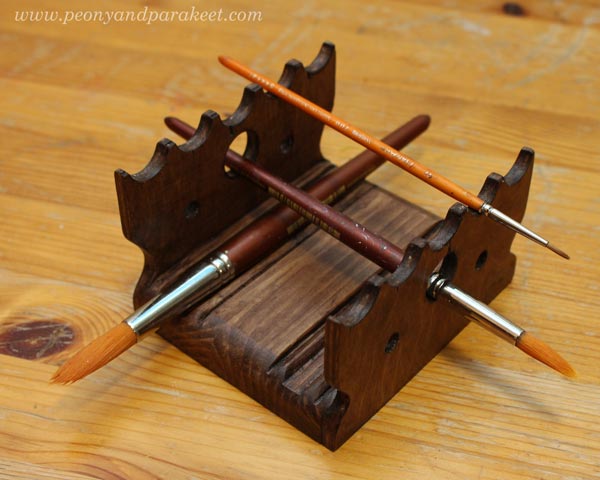 The Best Easel
We had an extra upright support of a shelving unit, and I wanted a new easel that would fit with the rest of the furniture in my studio. By adding one more leg and a holder for a painting, my husband turned the support into an adjustable easel!
Light-Weighted Storage Box
My husband has made many storage boxes for the art supplies, and this is the newest one. It's made from paulownia tree that comes from Asia, and it's very light-weighted. I wanted this box look heavy but feel light, and my husband found the solution!
Perfectionist's Wastepaper Basket
Much heavier but one of my ultimate favorites is the wastepaper basket made from oak. I think it's luxurious and it makes me smile every time I see it. There's some humor in living an imperfect life, creating imperfect art in the imperfect world – and having a perfect wastepaper basket!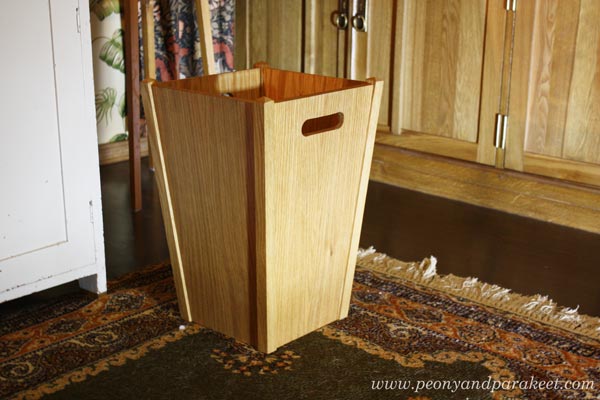 My Husband's Journey as a Woodworker
When we were living in our previous home, there was no room for woodworking. About five years ago, we moved to our current house that has more space. That enabled my husband to start the hobby he had dreamed for a long time. Namely, for years he had watched woodworking videos from Youtube. While I was dreaming about the life as an artist, my husband sat on his computer and watched skillful woodworkers drill and plane. Based on the sounds of our small living room, it was like some serious wood projects were going on all the time.
Then, finally when he got his space, he was able to join the gang – get a collection of hand tools and make something beautiful that he can be proud. He thought that his skills would grow in a very short time – that he had learned the most of the necessary lessons by watching the videos. But as you may guess, it wasn't that easy. He got disappointed. He drew a hole in a wrong place, he chose wood that wasn't perfect for the project, he made errors when calculating the proportions, and he was surprised by the visual skills that the woodworking required. It was not only that his technical skills were lacking. His ability to balance his designs and to generate ideas for unique pieces were lacking too.
But I encouraged him to continue, and he did. Every project grew his skills. After a couple of years, he made a small table that shows how far he has come. It's inspired by Japan and the early 20th century. It's made from oak and finished with shellac.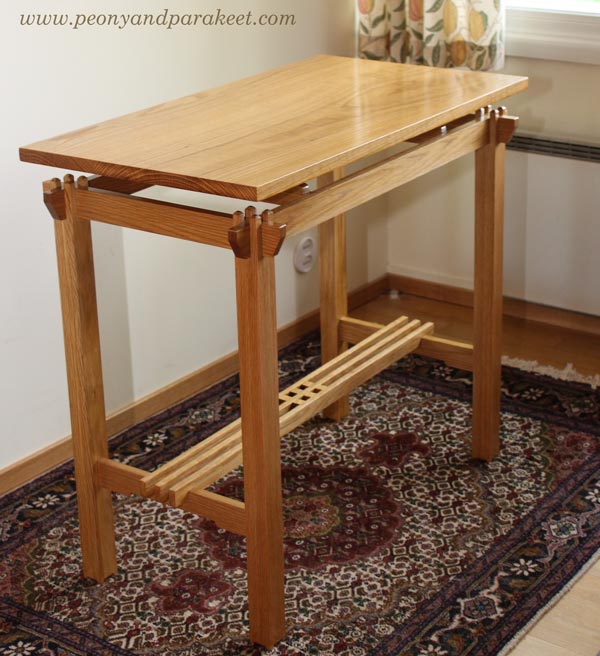 At the beginning of the hobby, my husband wanted to learn to carve. So the very first project of his was a wooden leaf. He started the carving, but it felt too difficult, so he gave up. After finishing the table, he remembered the unfinished project and completed it without struggles.
Even if this post was not directly about painting and drawing, I think that we all can relate to my husband's journey. Creating art is never as easy in practice than in our dreams. But the happiness that it can bring is priceless. You just need to start and keep on creating!
Let me be your art teacher: Subscribe to my weekly emails!