This post is dedicated to all who have lost their creative inspiration during these challenging times when outer storms cause inner storms too.
I have always loved art that uplifts and is more on the bright side of fantasy than in the darkness. I have defined myself as an artist who does not express agony or suffering or bring out what's wrong in society. My art has based on the possibilities of imagination. It's about the richness of the inner world. "Spiritual freedom" has been my word.
But the longer I have painted, the more courageous I have become. How flowery do my paintings have to be? To free up my art and to free up my thinking as well, I have begun to accept all kinds of shapes, colors, and emotions. The same flowers that bloom in my watercolor pieces become little monsters when I paint more freely in oil. It's like there's a new world under the inner world I only used to know.
Painting Inner Storms
At the end of January, I started a new big painting. It had dark colors, but I intended to brighten it. "When the time is right, I will make it more cheerful," I promised to myself. Weeks went by, and it always felt like I had something more important to do. I didn't have the energy, or I had too much energy. The more I postponed the finishing, the moody I became. "This pandemic gets to my nerves," I said to my husband.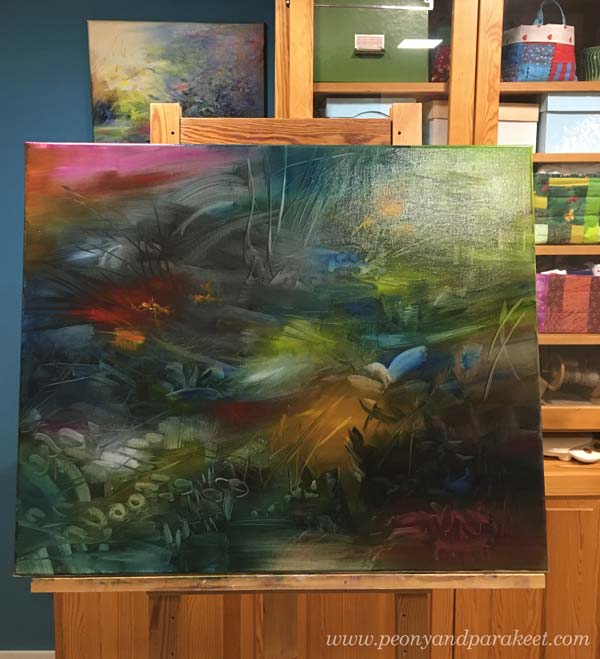 But when my spirit got more and more low, I had to do something. One night I picked paints and brushes, abandoned all the happy stuff I was creating and continued the painting. The brushes felt heavy at first. The paint tubes were like stones. But then I remembered the magic words: "Päivi, you can paint!" This confidence, even if it always feels false first, energizes my strokes and thoughts. The painting begins to speak to me, and my responses become more and more natural.
This Too Shall Pass
"What are you painting, Päivi," I heard my inner critic saying after a while. "The piece is still very dark." My immediate answer was: "Yes, it's dark, but this too shall pass." At that moment, I knew the name of the painting and why it should not be forced to look more cheerful. Inner storms can be as beautiful as the happy moments and little monsters as clever as any flower.
When I woke up the following morning, my mind was calm and still. And when I look at the painting, it gives me hope no matter how stormy and gloomy it seems.
Here are some detail pics.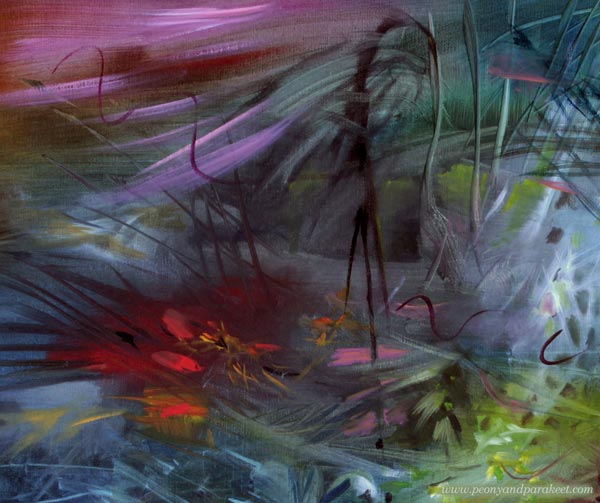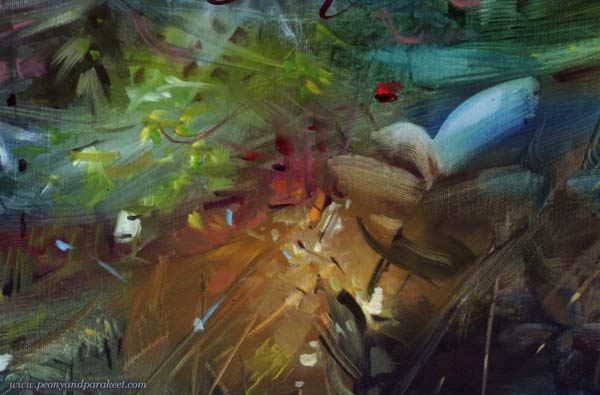 Here's the whole painting again.
Sometimes the lack of inspiration is a sign of not letting out what needs do so.
Have a creative Easter!
P.S. My abstract painting class Floral Freedom is now available as a self-study. Watch the video below!
My free painting style is based on Paul Klee's and Wassily Kandinsky's timeless teachings presented in this class. >> Buy here!