This week, I talk about design principles for intuitive painters. This is for you who paint because it's a spiritual act!
While making this acrylic painting, I thought about how intuitive painters often feel a disconnection with general art advice like "make sure you have a focal point." Even if I teach online classes, I often find advice that solely focuses on the technical part misleading because it talks so little about artistic expression and the experience of making art. Design principles can be like a bible for technically oriented people and a blank book for those who want to approach the subject more emotionally. But it doesn't have to be like that!
Design Principles and Intuitive Painting
Intuitive painting differs from following a predefined idea, a reference photo, or a sketch. Let's take the focal point as an example. Intentionally, you should start what matters the most and make it noticeable. This way, you have a clear focal point, and your painting delivers a clear message. But when you paint intuitively, there's no message when you begin. The painting process is about connecting with your spirit and being open to what wants to come out. Here's what my painting looked like after the first layers. Yes, there's some resemblance with the finished piece, but not so much that the advice would make sense.
The focal point (the small pale yellow rectangle in the dark area) and its supporting element, the row of white dew drops, were added much later. Here are the dewdrops and the many layers more closely.
On the other hand, I don't agree with those who say that lighting candles and taking a spiritual mindset should be enough. There are also those who believe in natural talent – that you either can or can't paint – which I most strongly oppose.
For me, intuition is about bringing knowledge and creativity work together and listening to what they have to say. When I want to move forward, sometimes it's about growing my knowledge, sometimes increasing my creativity, but often it's also getting better at listening – quietly observing what the painting wants to become.
When I notice a shape that looks like it's whispering to me, I want to strengthen it. And sometimes, these shapes later disappear under new ones, but they still showed me the way.
Let's go through 7 design principles and translate them from intentional to intuitive painting.
#1 Emphasis
In intuitive painting, aiming for emphasis is often about finding a suitable title and adjusting the painting to express the title. For me, painting is quite far before the first ideas about the title come up. However, the first ideas are usually the most conventional ones, so I keep painting and diving deeper.
I thought this piece was finished, when it looked like this. The title that I had in mind was "Windy Tales" or "Wind Blows in a Fairytale." But it was still too generic, so I kept asking: What fairytale?
After the painting session, knitting late at night, I got the answer: Snowwhite! So next morning, I added some more white and other colors of Disney's Snowwhite.
I feel that these small adjustments released the spirit of the painting.
Intuitive doesn't have to mean fast. We can take breaks and let our intuition and connection grow between the sessions.
#2 Balance and Alignment
The emphasis needs extra effort, but balancing is what we do naturally and so much that it suffocates expression. Be aware that "intuitive" often become "balanced" and nothing else.
The easiest way to balance a painting is to make it symmetrical. So taking an asymmetrical approach – even just for a couple of layers – makes you more expressive than any meditation! Imagine a horizontal and a vertical line in the center of your work and force yourself away from constant balancing strokes.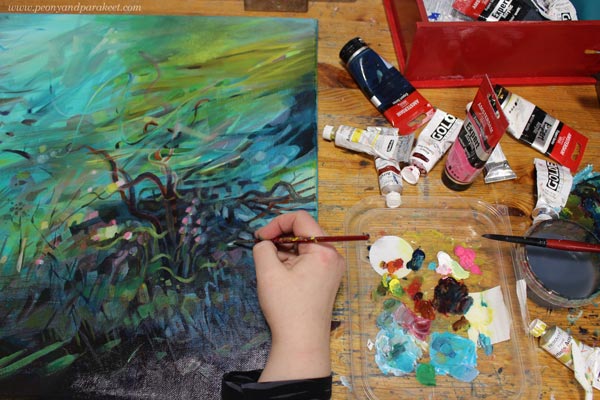 So for intuitive painters, getting off-balance is more important than creating a balance right from the beginning. In the end, you can balance the image with a few strokes if needed.
#3 Contrast
Intuitive painters have a strong connection to colors. I often begin with a specific color combination in mind, and colors feed my ideas. Yes, I like pinks, turquoises, bright yellows, bright greens … but I also have to remind myself that like a spring flower, a spirit of the painting rises slowly from mud.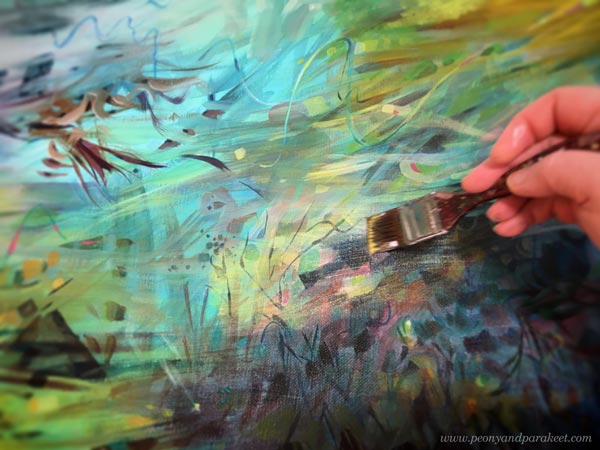 This design principle is not so much having different colors, but having differences in lightness and darkness. For intuitive painters, it means that we have to process colors that we lay on the painting. So not just squeeze tubes, but to create our own color mixes so that the spirit is not only on the paper or canvas but also on our palette.
When we slowly create the color mixes, we have time to connect with the tone, adjust its darkness, seek for the genuine response that has a longer-term effect than what has been industrially produced.
#4 Repetition
The best way to think about repetition is to express echo. Instead of constantly balancing your painting by looking at the big picture, focus on one shape that you have just painted and imagine its spirit. How would the shape echo itself?
The echo is never identical to the original spirit. The echo is weaker, and there's never just one sound, but a few.
#5 Proportion
In intuitive painting, we paint energy. Energy gathers to form cells, then clusters that get bigger and bigger. It's easiest to see these clusters by looking at the painting from a distance or by taking a photo and reducing it.
If your painting is full of clusters, all the energy is static, and you need more openness in shapes and lines. If all the clusters are similar in size, then the overall energy is impermanent and less powerful.
#6 Movement
Intuitive painting connects us with the tradition of storytelling. We don't just deliver a spirit but a story about its power. In visuals, we can build paths from one element to another so that the eye can effortlessly move around the painting like it's listening to an impactful story.
Rather than painting separate elements, connect them with lines or layering one slightly over another. Make sure that all your elements are not round and stop the eye, but pointed that move the eye forward and build flow and movement. So, when you feel the connection with the painting, create connections visually too.
#7 White Space
Intuitive painting is less about arranging space and more about filling space, but white space is still relevant if you think about it as breathing. A painting doesn't only need a spirit – it needs to breathe. If you paint boldly, everything bland will help with breathing. Adding muted yellows around a bright yellow spot makes the yellow spot breathe.
Design Principles Apply To All Art
So, you see, intentional and intuitive painting are not so different after all. The process and the values are a bit different. Still, it's like humans – we come from different countries and cultures, speak different languages, but with some translation, we can feel togetherness across the borders.
If you like this article, you will love my class Floral Freedom! There I translate Paul Klee's technical and Wassily Kandinsky's spiritual teachings so that you can paint abstract florals freely. >> Buy Here!