This week is about the moon and expressing the magic!
Here's one of my newest paintings called Kuutamon Taika – Moonlight Magic. This oil painting is a part of my series Linnunrata – Milky Way, where I explore planets and outer space. (See previous work: Mercury here, Neptune here, Pluto here, the Earth here, Venus here, and the Sun here!)
Experiencing Moonlight Magic
One night in April, after a long workday, my spirit was low, and I felt tired. But after stepping outside to take the dogs out one more time, I saw a beautiful moonlight. I even took a picture but just with my phone camera, and the photo doesn't do justice to the sight.
Everything looked black and white at first, but after a while, my eye saw a subtle variety of tones. It was like a message from the moon: "Paint me next! Let me be a part of your galaxy!"
Fantasy Art Connects Imagination and Past
This was not the first time expressing the moonlight magic. A few years ago, I started to feel that my art needed more fantasy. I had begun to follow many fantasy artists, for example, Jasmine Beckett-Griffith and Annie Stegg. Imaginative realism – as the genre is called – felt inviting. In 2018, I participated first time in the Inktober challenge, and in 2019 I made a class called Magical Inkdom.
The world of Magical Inkdom is playful and colorful, but so that some elements look historical, just like in imaginative realism, where the story often happens in the past.
I wanted fantasy art to be present in my upcoming show too. So I wanted to make a painting with a similar historical yet fantasy-oriented look. My goal was to create a traditional floral but still include something that would tickle the imagination and feel magical.
A slightly extraordinary composition and a combination of both decorative and more abstract elements make this painting stand out.
I am also surprisingly fond of the color scheme and it was much more fun to paint than I expected.
Expressing Magic and the Ability to Disappear
A part of the magic is that something almost disappears and then appears again, just like the moon in a cloudy sky. There are lots of blurry elements in this painting, even if you might not notice them right away. A sharp line and some dots on a blurry spot make the flower.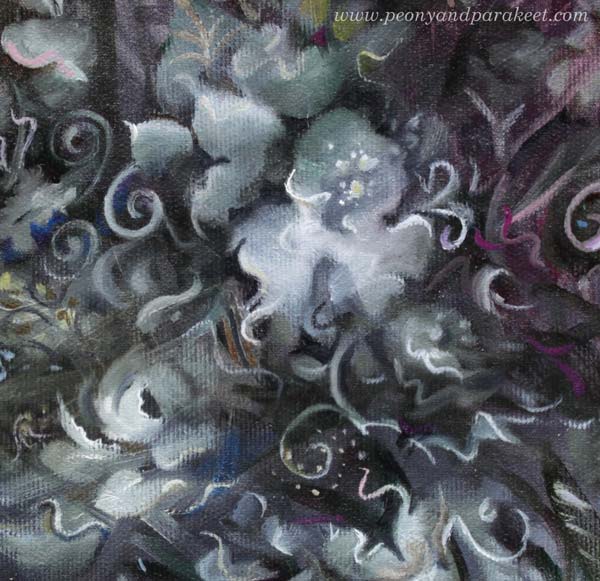 Old master painters of the 16th to 18th centuries used this technique a lot.
For example, look at the hair and the pearls in this portrait. Just blurry spots that have been sharpened with lighter and sharper strokes and dots. Don't they look magical!
Preparing for the Show
This painting is small, 30 x 50 cm. Here's a quick snapshot where you can see the size better.
I am currently varnishing paintings for my upcoming solo show in June. All the tabletops are full and the not-so-pleasant odor is in the air. I hope to have photos of the show next week.

P.S. Magical Inkdom is for sale until June 16th! >> Buy here!