This painting, called "Baroquai" is about painting through difficult times by discovering a secret place at home. A couple of weeks ago, I watched the movie Knives Out. It had a wonderful big house with secret doors, ladders, and all. I would like our house to have similar kinds of secret spaces, it would be so uplifting to change the scenes without leaving home!
In a way, art offers us those secret spaces. When I start a new watercolor painting with random splashes, it's like seeking the hidden door.
"What to Paint?" – "Wallpaper!"
Social distancing during the pandemic has made me reduce the requirements for my art. I try to paint what brings me the most joy and keep the ambition level low. If I ask myself "What to paint?", I just answer "Wallpaper" every single time. It's the easiest thing that I can think of painting, and the more I paint it, the more hidden doors seem to appear.
The thought of a wall of ornaments that come to bloom is both calming and inspiring. When I examine and alter the shapes with the brush, hidden spaces begin to reveal.
The space that I am sitting seems smaller, and the other space – that's in my mind – gets larger.
How Does Your Art Sound?
It's also inspiring to think about what sounds the painting evokes. For this one, it's baroque cembalo music, Jamiroquai, and softly singing choir of colorful budgies.
Mixing and Matching – The Reality Check
Painting wallpaper is also about creating something that complements and refreshes the reality.
I used a pansy – painted and cut for my box of joy – to test my "wallpaper." The fit looked so perfect that I painted some pansies there too!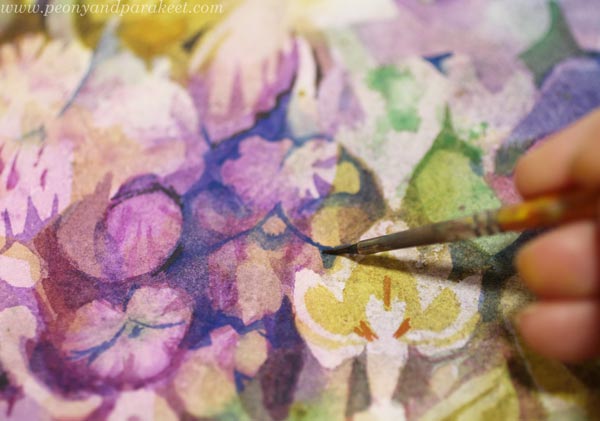 Here's a close look at my finished "Baroquai."
Artful Impact on the Wall
Always remember to celebrate the result! Add the signature once you are finished …
… and place the painting on the wall! The space that art creates extends the limited physical space.
I also like to photograph my paintings when they are on the wall. In my studio, I have art on the table too. There's a plastic cover that protects the pieces.
4 Easy Tips For Painting Through Difficult Times
Find a simple answer like "Wallpaper" or "Flowers" to be ready for the inner critic's question: "What are you creating?"
See your art as soundscapes rather than landscapes.
Mix and match things you create, no matter how small they are. Think about decorating a secret room with a collection of stuff rather than going out in the open with a single masterpiece.
Find joy in the interaction between the surrounding space and your art. Art makes the space, and also, the space can boost art.
Let's give art the possibility to gently lift our spirits!
Inspiring projects for flower lovers: Buy my class Floral Fantasies!