My latest watercolor painting has lots of vintage style flowers. I call it "Lemonietta," and it's inspired by home decor, afternoon tea, cream cakes, piano music, and of course, my favorite fruit – lemons!
Vintage Style Flowers in Three Colors
I have always liked old art and not just masterpieces, but decorative die cuts, vintage postcards, and all the more kitschy stuff too. So this post is dedicated to vintage style flowers, and I show how to make a cluster of vintage style flowers to your box of joy – any box that you fill with handpainted and hand-drawn collage pieces!
The tutorial is for watercolors, but you can use any paint for it. Just make sure to keep the color layers transparent. I use a piece of smooth watercolor paper, but almost any paper will do. And you only need three colors: yellow, pink, and green!
Step 1 – Three Yellow Circles
Start with yellow and paint three circles.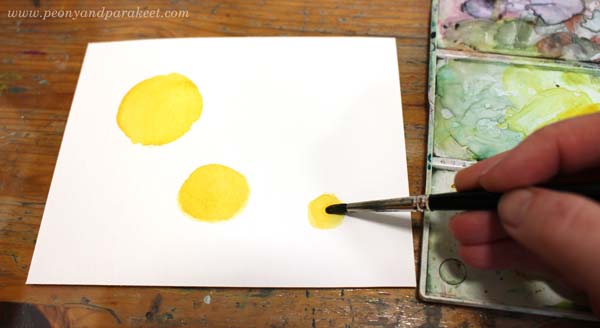 I painted the circles in three sizes: large, medium, and small. They form a curve rather than a straight line. This way, the composition will become more elegant than if you have similar sized flowers in a straight row.
Step 2 – Pink Petals
Add pink circles or ovals around the flowers.
Some petals can be smaller than others, so that the orientation of the flowers varies a bit. Compare my biggest flower to the medium-sized one!
Step 3 – Darken the Centers
Continue with pink, but use a little less water so that it's darker. Make the centers and petals clearer by painting around the center and the top parts of the petals.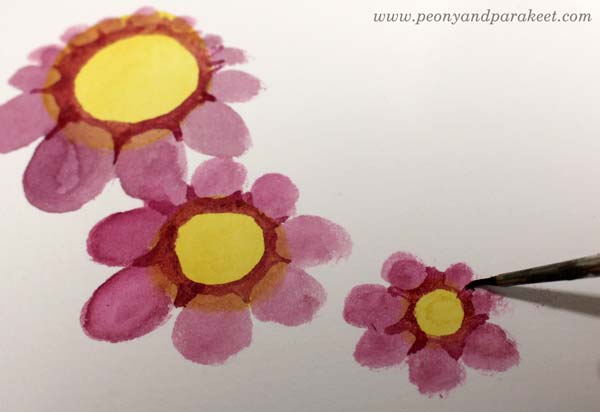 I use a thinner brush to get sharper points near the petals.
Then mix some more water to pink paint, and add small circles to the centers.
I use a bigger round brush for round shapes.
Step 4 – Green Leaves
Paint green ovals around the flowers.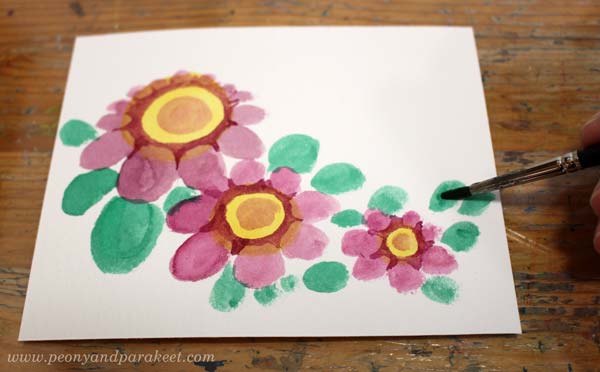 Again, my ovals have a variety of sizes so that the composition looks more lively.
Continue with green, but now use a thicker color. Make the leaves sharper and a bit more elegant. Only paint a part of a leaf with a darker green.
See how pointy my darker shapes are, and how they don't cover the whole leaf!
Step 5 – More Details to Flowers
Start with thick green paint and a thin brush. First, add green triangles between the petals to make the flower look more three-dimensional.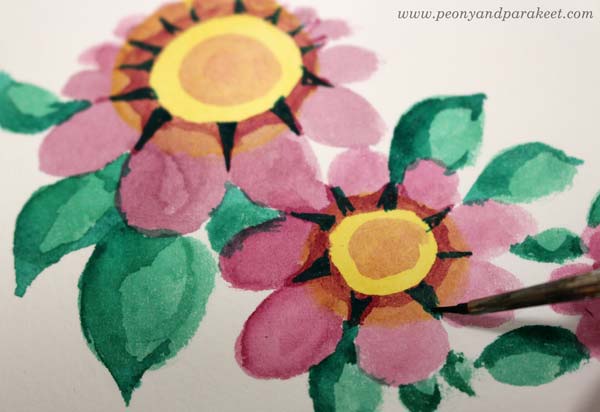 Second, paint around the petals so that they look more frilly.
Then change to a bigger brush and add more water to make the paint transparent. Paint pale green spots on petals and on the centers.
With a thinner brush, add green lines to the petals and centers. Finally, change to pink, and paint centers and petals so that they are partly darker.
The nostalgic look comes from the contrast colors and the color variation.
Step 6 – More Details to Leaves
Add pink shadows to the leaves.
With thicker green and the smaller brush, paint think lines on the leaves.
Step 7 – Dark Background
Mix thick paint from green and pink, and paint the background areas between the flowers.
I also check all the edges around the cluster so that it's easy to cut.
Step 8 – More Color Variation
To make the flowers glow, add more color variation. Use thin paint, and add yellow to the leaves. Only paint each leaf partly.
Similarly, add green to the centers.
Here's my finished cluster before cutting.
Step 9 – Cut It Out!
You can still change the shape of your cluster when cutting around it.
It's so much fun to make and find backgrounds that come alive with these little flowers.
And of course, they bring more joy to the box of joy too!
Vintage Style Flowers – Starting More Intuitively
Painting small pieces is fun, but my bigger paintings are born more intuitively and they take a longer time.
I love to dig out flowers of random blooms and spatters, and then move on to paint them more intentionally.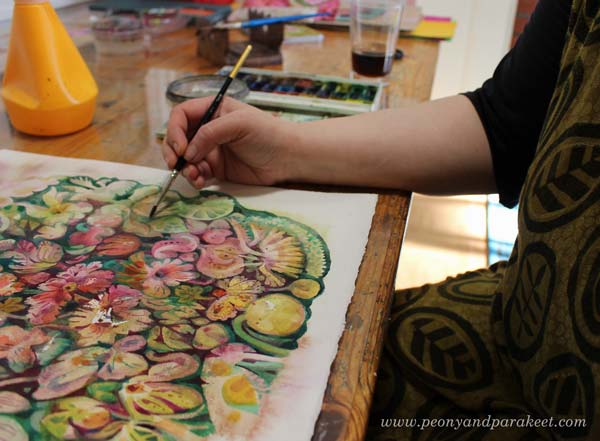 When the paper is full of details, it's sometimes hard to decide which ones can take the central role and remain bright, and which ones get more background color so that they don't stand out so much.
Here's the finished piece again. It took about two days to complete.
Even the smallest single flowers are still part of the same world.
I hope this post inspired you to create, whether it's a project of two hours or two days!
Inspiring projects for flower lovers: Buy my class Floral Fantasies!