This week, I share my biggest painting so far, and talk about computer games and all the things that should not inspire but that do!
Here's the last painting of the series that I have been working on this year. It's called "All In." The Finnish translation "Kaikki peliin" is perhaps even more suitable because there's the word "peli" – the game. In this painting, I made every element look like it moves – like in a computer game!
I Am Not a Gamer
No, I am not! Actually, I am the last person who should be talking about computer games because I don't play them at all. But I have seen some commercials on television and Youtube, and they make my heart beat faster – that's the tribe where I belong! Despite I hate seeing violence, and don't usually even watch action movies. Action upsets me. In general, I prefer everything cute and pretty.
My Imagination Loves Games
But when I paint, I am not just an artist with all kinds of brushes and tubes. I become a nerd who tries to find the fastest processor and the best graphics driver for rendering 3D from her brain. It no longer matters what kind of art I should create and how art should be created. I change to a guy who moves from one level to the next, always seeking more monsters, more excitement, more points.
Because I don't play the games, I should not even know how it is like. Yet, I feel I do. Namely, in my twenties, I chose computers over art. I felt I belonged to the world of introverts who built systems – worlds of their own. And now, when I paint, my paintings bring me back to the same setting – how to build a world that operates like a fast-moving game, with many layers and levels.
This is not what I would have expected. If someone said to me: "Hey Paivi, you should paint game sceneries. Make your own games!" I am pretty certain that a couple of years ago my answer would have been: "You must be kidding. I am a feminine romantic who hates that stuff!"
The Adventure for Uncommon Inspiration
But art is an adventure. It's not only a journey to a variety of techniques and skills but also an exploration that includes the darkest corners of your mind.
In 1980s, I was a girl who sat in a local library on hot summer days, browsing big books of old art. My dream was to become an artist, but knowing that it would not be safe or easy, I said I wanted to be an English teacher. Between the art books of the library, I saw young boys browsing computer magazines. I went to the shelf after them and knew that I also belonged there – to that group of nerds. And when I saw a computer for the first time, my heart beat fast like for the best painting of a museum.
Making a series of paintings has been quiet and hard work. I have had lots of self-doubts and melancholic moments between the sessions. But when I paint, it's all good. My paintings say: "Tell me what you want and we will give it to you!" And often, I don't know what to reply, but they seem to know anyway. Like I never told them how nerd I am, but they shamelessly reveal everything and apologize for nothing.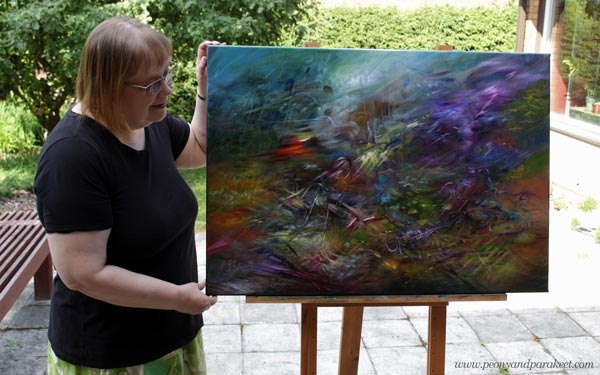 We talk a lot about being unique as artists, but what about if a part of the solution is just to find inspiration that feels uncommon to us. It could be something that we try to get rid of but never seem to manage to do. Or something that we find appalling but still strangely captivating.

What could be your uncommon inspiration? Could the art that you create be a little different from the art that you like to consume? What do you think?