Here's the problem with creative goals:
When forcing yourself to focus on a few things only, you will get bored and feel restricted. Rather than gaining more meaning for your art, you drift further away from what you are. You are then also less likely to fascinate and serve other people as well.
But let's think this way:
The core of your creativity needs space for expanding. Don't set a single technique, skill, project, or source of inspiration as your primary goal. Instead, ask:
"What kind of fantasy world do I want to build?"
Look Further Rather than Narrow the Goal
Don't just say: "I want to paint flowers," but imagine a place where your flowers grow. For example, is it a palace with huge vases, or a meadow full of light? Continue to travel further: what's around them, where do they lead, what kind of patterns, colors, and atmosphere are there? When searching for inspiration, select things that fit with your imaginary world.
When you think about the world instead of a style, you allow things to get mixed and merged. You will see the many things you do as one big world-building factory. Your art-making is then more focused on how to integrate than how to minimize, and you become many steps closer to your true self.
Creative Goals – Frequently Asked Questions
"I want to become an abstract painter, how does this world-building fit with that?"
Abstract art also sets an atmosphere and takes ideas from representational things. If you try to avoid that, you won't have any ideas for abstract art. The inspiration for the world-building also includes all the senses. You can curate what sounds and music belong to your world, for example. It's also a mental thing: think what kind of philosophy and experiences you want to express, and see them as events in your world. You can go as far as you want, but start simple and expand as you create and integrate.
"I just want to create like my idol X.X. does."
What kind of world is she or he building? What is missing if you think about your origin and your childhood? Two people never have similar worlds. But that's also where the exciting part begins: our worlds can cross and enrich each other. 
Come to Draw and Paint with Us!
Come to expand your visual world lesson by lesson! Forest is a place where nature meets both abstract and representational, intuitive and intentional.
>> Sign up for Magical Forest!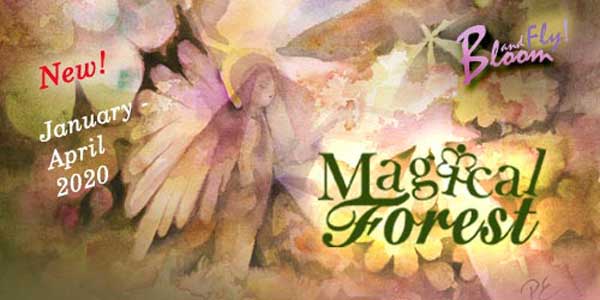 The class begins on January 1st, 2020! >> Sign up Now!