This week, we are doodling wildly with colored pencils.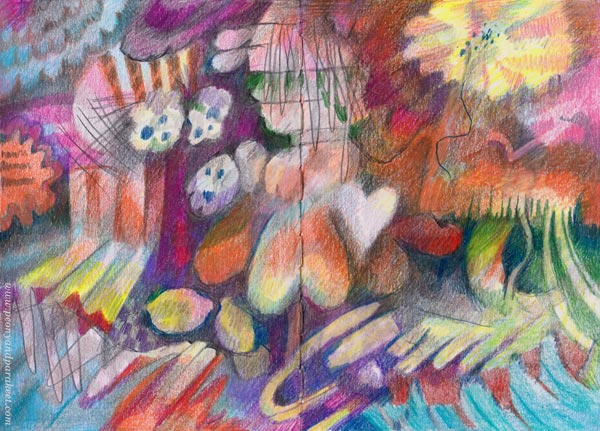 Free doodling is the most natural way for me to create. I can just start. No browsing the internet for ideas, no trying to think what to express. It only requires trust that something will appear – that a problem I wasn't aware of gets solved, a key to a door that I didn't notice is found, and a place that didn't exist is born for everyone to explore.
Mindless Doodling
When doodling with colored pencils, I like to pick a pencil and start coloring mindlessly.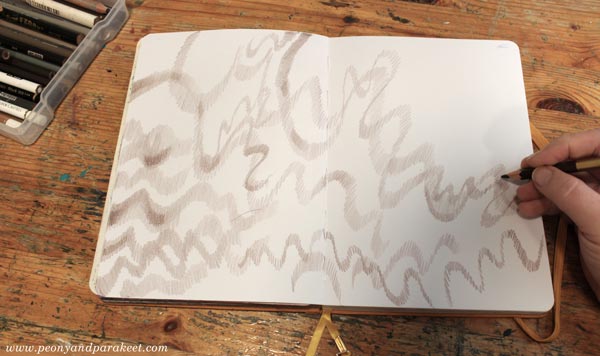 I often pick a neutral color and use a light touch so that I can later add layers on the top.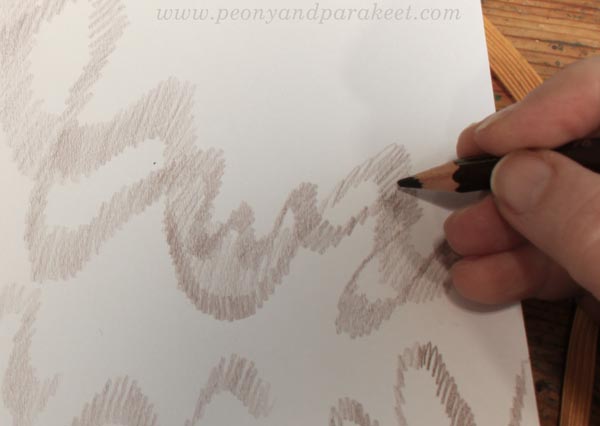 The mindless curves can go on top of each other, already creating a new layer.
When I get bored, I pick another color and do the same.
I try not to worry about how it looks because it's just a warmup.
Enjoying Colors
When my thoughts begin to flow effortlessly, I add more colors. Now I color areas or spots over the doodles.
I also highlight some parts of the doodles with color.
I cover most of the blank areas so that the image becomes less busy.
Drawing Something Intentional
If I get stuck and feel discouraged, I draw something to cheer me up.
A heart is a message for myself: "Keep going; everything will be ok."
Discovering by Shadowing
"What should I draw?" we often ask ourselves. I often push through by picking a fairly dark tone and shadowing around a random area.
I also like to color stripes, so I color and shadow them. It usually doesn't take long when I feel the sense of new, exciting scenery.
Doodling All The Crazy Stuff
Recently, I have become more open to allowing all the things that don't seem to make sense. I also have got more courage to put expression over prettiness.
The success of this kind of wild doodling is connected with the more traditional art skills. I have noticed that after doing the projects for the class Doll World, I have been able to include human shapes and characters more effortlessly for drawings and paintings.
Colored Pencil Doodling – The Result
I think that the finished work expresses that I am at a crossroads. I have a new exciting project on the horizon that you will find out more about soon. I am considering what old things to continue and what to abandon.
But I think that everything will be ok anyway because when I turn the spread upside down, the world still looks exciting and inviting.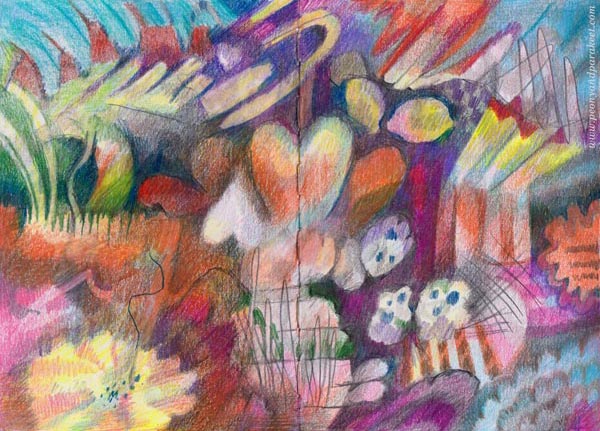 More Intuitive Art Projects
My classes – Inspirational Drawing and Intuitive Coloring, go into this kind of free-flowing process in more detail. If you prefer watercolors to doodles, check Magical Forest for a similarly intuitive approach.
This small colored pencil journal is currently my favorite art journal. Check the class Fun Botanicum for a jump start for beginning colored pencil journal pages!