This week, I have a new winter-themed painting, and we talk about the many approaches for expressing winter and memories of any season.
Here's my newest painting called Winter Night's Poem. This time, the Finnish name is much more beautiful: Talviyön runoelma. I wanted to give the painting a poetic name – like Shakespeare's play "A Midsummer Night's Dream – Kesäyön unelma" but something more wintery. So I come up with the Finnish name, which sounds so romantic (if you know Finnish that is!), and then translated it to English as accurately as possible.
I painted this piece for the local artist association's winter-themed art exhibition. Winter sceneries aren't really my thing, but I wanted to take the challenge. I started by exploring Japanese woodblock prints and made a small colored pencil study that is more like a fall scenery, but that has similar abstract elements than in the final painting.
I talked more about this colored pencil piece in October's video blog post.
Winter Memories
I found it challenging to get emotionally connected with the theme. As Finn, I do know winters. They are cold and dark, and there's not much that I enjoy about them. As a child, I lived further north, and winters were even colder and darker. Here's a picture of me in 1974 when I was 5 years old.
However, I have one special winter memory. Earlier this year, in one of the weekly emails, I wrote about Avicii's music and how it brings the memory to my mind:
When I hear A Sky Full of Stars, I am a little girl on a cold Tuesday evening in Eastern Finland. After participating in an icon painting group, I walked down the snowy hill looking up. The starry sky was blue-black, I realized. Not black like for those who glance carelessly or blue like for those whose skies were always blue. Working with colors had made the world look more beautiful.
I also remember getting an idea for a poem that I later wrote down. It was something about the starry sky. And there was a melody too. The sight, the words, and the sounds all formed this beautiful winter memory. And isn't it so that memories are full of sensations of all kinds? Why should we then paint only what we see?
But then I heard myself saying: "Paivi, remember that it's a winter-themed exhibition. It has to look like winter!"
How Does Winter Look Like?
In 2013, I made this hand-drawn collage for Christmas cards. It has a decorative approach to winter. Snow, hearts, berries, pastel colors – they all form a light-hearted and entertaining take on winter.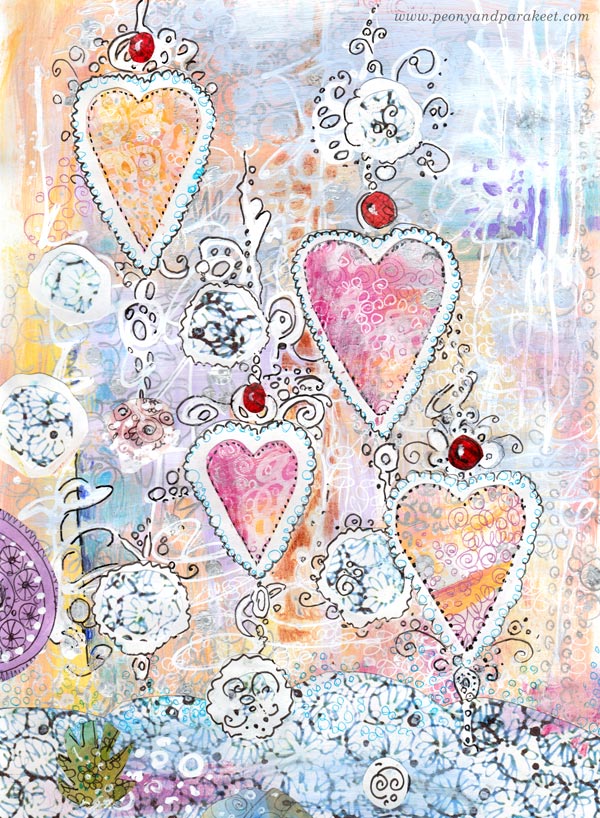 An even more obvious choice would be to paint a realistic winter scenery with snow, trees, and such. Here's a watercolor painting from 2018:
My idea was to paint both fall and winter into the same piece. This is a class project from Watercolor Journey where we paint all kinds of sceneries in watercolor.
Winter in a Poem
But the more I thought about winter, the more connection I felt with the abstract side of it. I didn't want to just paint an empty-looking scenery in black and white. I wanted the lights and darks to have a rhythm.
My favorite poet Eeva-Liisa Manner has a winter poem that I have read hundreds of times because it was in a little poem book my family had. For a small child, the content felt strange, but the more I read it and the more I grew, I fell in love with its rhythm. The poem doesn't rhyme, it's free verse, very modern. But still, when I read it, I feel the rhythm, and when it ends, it feels like you have listened to a song, not read a poem. The words have been thrown into the air, carelessly, and yet, it feels like everything has a purpose. It's like every word would have fought to get into to poem, and after accepted, they are ready to fly beautifully, each on their turn, and then to get mixed up even more elegantly in the reader's mind.
Maybe you too, love poetry and have experienced the same. The words glow like jewels and have a long effect even if the time spend on the reading, is just a minute or two. Isn't that what we aim for in visual art too?
Wonders of a Winter Night
More than thinking about realistic scenery, I approached the painting with a poetic mindset. I imagined the sounds and rhythm of a winter night and visualized those. I trusted that the result will look wintery even if the painting is abstract.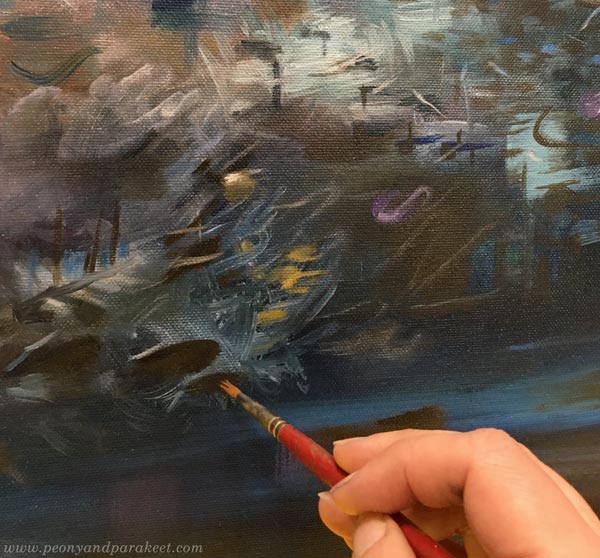 I also thought about how things move, and one of my favorite details is the curvy black wind that blows snow.
Carelessly painted ice-like objects are on the top, and the sound of ice is visualized below them.
Probably the childhood memory of the winter night has stayed with me because it's a little bit scary to walk alone in the cold and in the dark, under a few street lights only.
The color scheme was one of the challenges. I didn't want the painting to look off-puttingly cold. Instead of only using blue and white, I brought a wide variety of tones but so that most of them are quite dark or pale.
Fortunately, winter is not here yet, but usually, we have the first snow in November. So the garden scenery will change soon!
I hope this blog post inspired you to express winter or any season that you have fond memories of!