Even if I want these blog posts to be a celebration of art-making, I also want to paint and write from the heart. This week's post is about sadness and its' effects on creativity.
Here's my latest acrylic painting called "If Grief Smoked." Like many of the recent paintings, this also has a connection to a poem. The title is from Eeva-Liisa Manner's poem "Jos suru savuaisi." But this time, I didn't follow the poem but used the title as a prompt only.
Missing Cosmo
I have been very melancholic this fall, and to be honest, building a new class Floral Freedom, has been my savior. It's been a captivating escape from a life that feels emptier than before. My loyal companion Cosmo died in September, and it's like a part of me has lost a purpose.
Cosmo was our family member for over 15 years, and there's a lot I miss about him. Small things, often quite insignificant ones, like how he used to pick a sock when he wanted attention. My heart breaks when I remember how softly he did that, not leaving a single mark. In the end, he was a good dog and didn't want to behave badly.
So yes, my grief has been smoking and burning. A wind of time has taken some away but also spread it further. When it started to feel that the grief would scorch my brushes, destroy the paints, and make the studio a smoky place, I knew it was time to paint. Not that it would take the grief away, but force me to deal with it.
Persuasion Can Replace Inspiration
Art is not always about inspiration. You know Picasso's saying that the inspiration has to find you working. I find self-persuasion especially useful. "After this, you can paint whatever you want," I said to myself.
If we don't paint these paintings that need to come out, it can cause a creative block. I have had some major ones in the past, and I didn't want that to happen now.
"Follow the color," I said to myself like many times before. It's a quote of my own that boosts my confidence when I am working.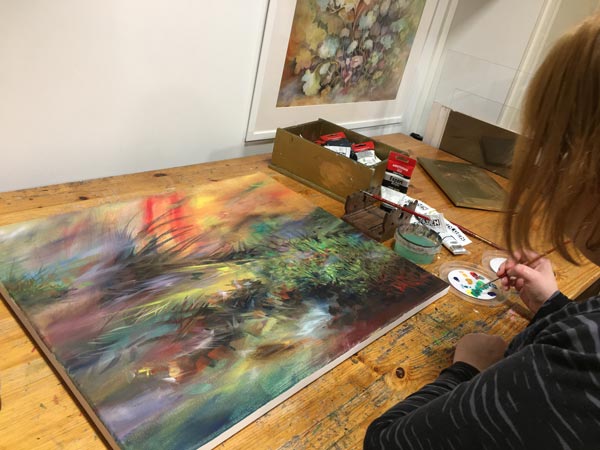 Stepping Into The Painting
This scenery had been in my mind for weeks. It was like an overdue baby, pushing through the brush.
I just had to open my heart and welcome it.
Wassily Kandinsky talks about a glass between the artist and the painting, and how to remove it. It's one of the hardest things when in grief, but also the most impactful one.
When we paint without the glass, the image becomes more personal. It doesn't matter what other people think about it because you are living and breathing it. But oddly so, removing the glass also makes the image more general. My loss gets connected to everybody else's losses. We are all behind the same glass, under the same blanket.
If grief smoked, we would all be covered in it. Even if it's the saddest thing, it's also beautiful to let go of someone or something you love. You can no longer help them, and it's time to give them away.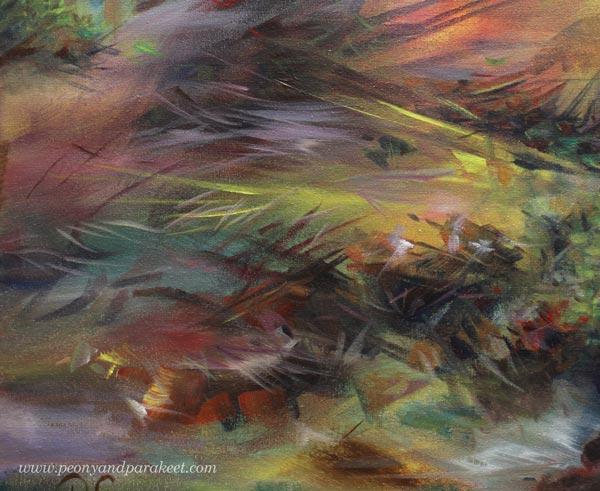 Mental Queue – Images That Need to Get Painted
Art helps us with things that can't be solved intellectually. I also think that artists have a mental queue. If we try to jump over the hard images, we don't have the energy for the more cheerful ones that come next.
I hope this inspires you to pick the brush and paint the image that has been waiting for its turn.